PLDT welcomes 2019 with the recent announcement of its new PLDT Home Google Wifi Plans which include Unli Fibr.
Those looking to upgrade their current connection can check out PLDT Home's new offering. The telco's new Google Wifi Plans now come with Unli Fibr, meaning there's no data cap, and three Google Wifi points which ensures every corner of your home has a Wi-Fi signal.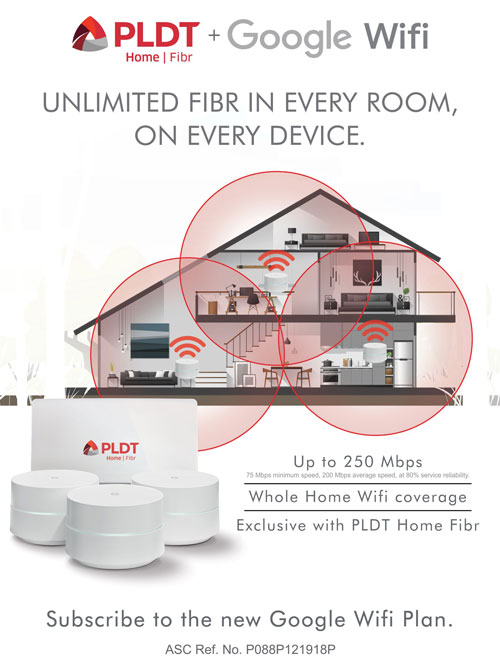 For those who are not familiar with Google Wifi, it's a mesh-capable wireless router which enhances Wi-Fi coverage by setting setup multiple Wi-Fi devices or "points" throughout a home. The Wi-Fi points allow signals to penetrate a larger area. The whole system is managed via a companion app available to both Android and iOS.
The new plans also come with a free landline phone with unlimited calls to Smart, TNT, and Sun.
Speeds range from 30Mbps, 60Mbps, 120Mbps, 250 Mbps, and all the way up to 1Gbps, which is more than enough for video and music streaming, fast upload or download of files, playing online games minus the lag, and for clearer video calls.
For more information about PLDT Home Google Wifi, you may visit www.pldthome.com.
Thank you for your time. To stay up-to-date with technology and Internet news, please follow us on Facebook (facebook.com/TechnoBaboy), Twitter (@technobaboy), and Instgram (technobryan).