Realme is now the number four smartphone brand in the Philippines in Q4 2019, according to a report from global market analyst firm Canalys. In that time, Realme PH grew its year-on-year sell-in shipments by an astonishing 709%. In comparison, the number one brand, OPPO, grew only 44%.
Realme released six smartphones across different price segments in 2019. The phones, which included the Realme 3 series, the Realme C series, the Realme 5 series and my personal favorite, the Realme XT, help fuel the growth, broking many sales records and amassing a good following in the process.
"We are much delighted to share this news to the realme community as this would not be possible without their constant support and loyalty to the brand. We are thankful for the support and patronage we are receiving. 2020 will be the year that we grow further with more competitive smartphones, AIoT, and 5G inclusion. Expect that we shall leap to greater heights with more Filipinos ready to enjoy the real value and the latest technology," shares Austine Huang, Realme Philippines Marketing Director.
Also Read: Realme to bring 5G phones to the PH; Is the Realme X50 coming?
This year, Realme continues its upward trend by setting the stage for its next milestone by bringing 5G devices to the country. During the launch of the Realme 5i, it was stated that they are ready to provide powerful and affordable 5G products to the local market. They could be talking about the Realme X50 5G, which might arrive soon in the Philippines.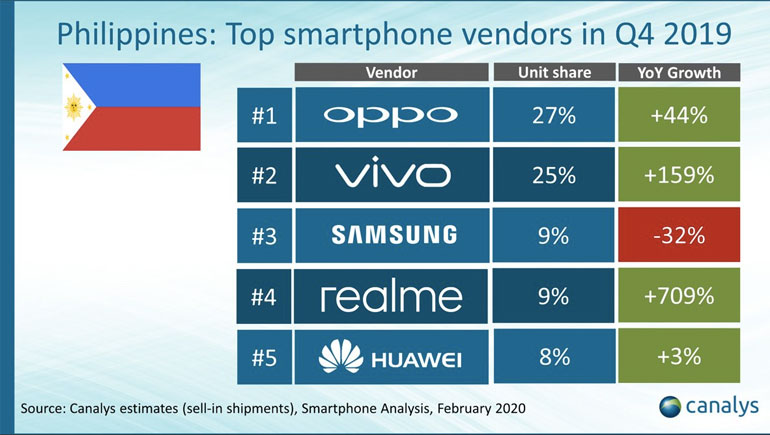 Going back to the Canalys report, the top 5 smartphone brands in the country are (1) OPPO, (2) Vivo, (3) Samsung, (4) Realme, and (5) Huawei. While the total smartphone shipments in the Philippines in that quarter grew by 28%, Samsung was hit hard by the growth of the others, experiencing a drop of 32% in YoY Growth.