Huawei unveiled the latest EMUI 10.1 together with the global launch of the Huawei P40 series.
EMUI 10.1 builds upon what its predecessor, Android 10 based EMUI 10, laid out. It debuted with new features such as the Huawei MeeTime and new multi-screen, multi-device collaboration.
Check out some of the EMUI 10.1's most interesting features:
UI Improvements
With EMUI 10.1, Huawei introduced new animation physics called the friction-slide effect. Its similar to how an object in motion gradually slows down due as it loses momentum to friction.
This results in a better looking and realistic scrolling animations that behave as you would expect it.
Swiping inwards from either side brings up the new sidebar. Here, you can initiate the Multi-Window function. Using Multi-Window, you can launch supported apps in a small smartphone-sized floating screen, allowing two apps to run side-by-side.
Multi-Device Control Panel
The new multi-device control panel is a unified platform that allows you to see every connected device at within range. Connecting is as simple as tapping on supported devices on the menu.
Also see: Using Huawei's AppGallery and Google products on your Huawei smartphone
It is activated by swiping from either corner. Here, you can turn supported IoT devices on or off, set up your smartphone screen projection, initiate Multi-screen Collaboration and more.
Huawei MeeTime
Huawei's MeeTime is a high-quality video calling app that supports up to 1080p resolution. The app uses both software and hardware to deliver a smoother and more pleasant experience.
Users can also share what's on their display while on a call. Third party cameras like the Drift action camera can also be connected wirelessly as an external camera for a more immersive and dynamic video call.
Multi-Screen Collaboration
The new Multi-Screen Collaboration allows Huawei smartphone owners to share their screens on Huawei MateBook laptops. Setting it up is as simple as tapping.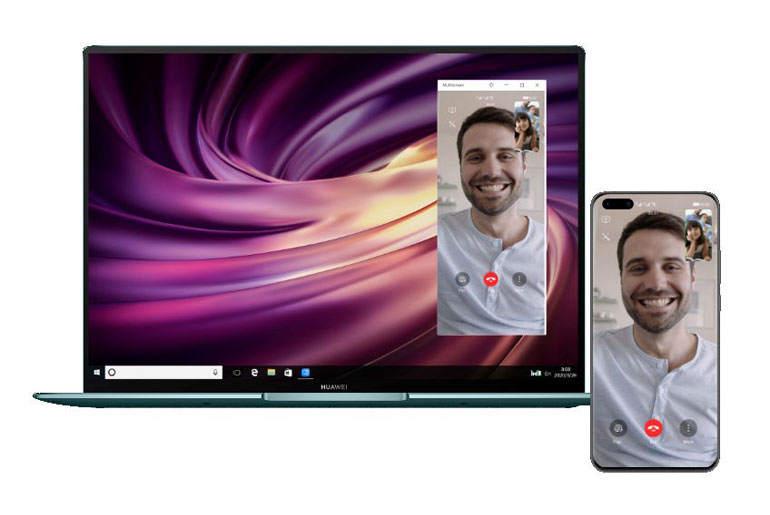 Huawei's distributed technology allows users to use the PC's camera and microphone as though it was connected to the smartphone. Users can also use native PC applications to directly open files or hyperlinks on the smartphone and take advantage of better hardware and the converged app ecosystem for improved productivity. 
Huawei Share
High speed file transfer protocol Huawei Share has been an EMUI staple for some time now. However, improvements have been made on EMUI 10.1.
Also see: Huawei MatePad Pro is the Android tablet you want; PH price and pre-order details revealed
In addition to Huawei smartphones, tablets and PC, Huawei Share now also supports third-party products.
EMUI 10.1 Availability
EMUI 10.1 will roll out to over 30 Huawei smartphones, including the HUAWEI Mate 30 Series, HUAWEI Mate X, HUAWEI P30 Series and more.
For more information, stay tuned to your local Huawei channels and social media accounts regarding your local update schedule and details on supported devices.