This post is for those who want to get the best out of their Huawei devices.
Huawei smartphones have one of the best hardware in the smartphone industry. But what about their software?
Nowadays, it's hard not to bring up Google when discussing Huawei. Many of you should be familiar with the story by now — the TL;DR of it reads Huawei and Google were forced to end their partnership by the US government due to security concerns. The means no more Google apps and the Play Store on new Huawei phones and tablets.
But all is not lost though. Both companies are fighting hard to be able to work together again. Microsoft successfully obtained a license, so it could happen for Google.
Now for those who can't wait for the search giant's license, there's the AppGallery for apps. Besides, you can still enjoy Google products (like YouTube, Gmail, etc.) on your Huawei smartphones.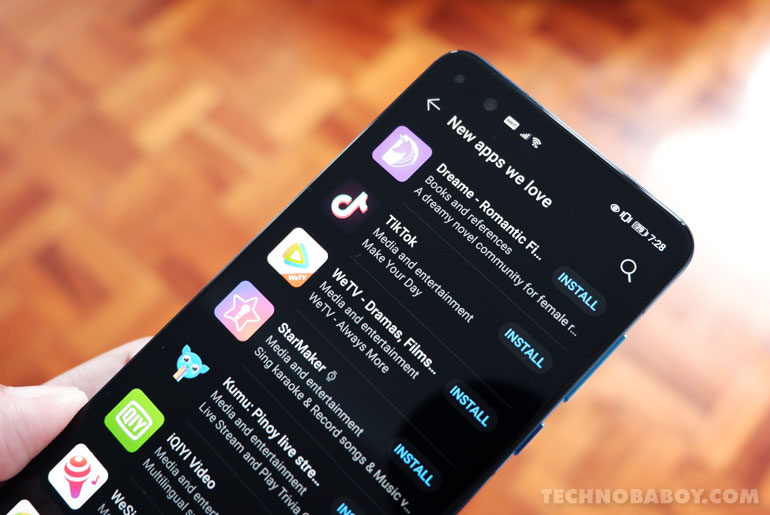 Huawei AppGallery
The AppGallery is Huawei's official app distribution platform (their app store, if you will). It's catalog is ever growing and, in fact, it is already quite expansive.
For starters, the AppGallery has many of the popular apps used today such as TikTok, Snapchat, Viber, Booking.com, Klook, Agoda, WeChat, Lazada, Shopee, Viu, PayMaya, and GCash, including local banking apps like BDO, Metrobank, RCBC, Eastwest Bank, and Union Bank.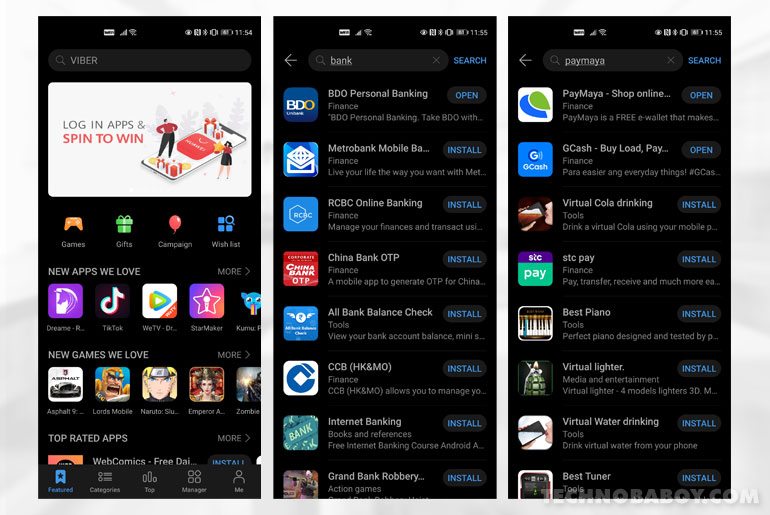 For BPI users, you can access the BPI online banking site on the native web browser. The web app functions just like the app, offering the same experience. BPI really did a good job of enhancing the portal to make it work seamlessly on mobile web browsers. In fact, it works faster. Just add the bookmark to the home screen for easy access.
Using Google products on Huawei smartphones
For those who want to use Google's products and services, you still can as web apps. Most of the big G's products are web based, which means it can and will run on the native web browser.
YouTube, Google Maps, Google Keep, Google News, and Google Calendar (to name a few) all run as web apps. The experience is close to the actual apps. Again, just add the bookmark shortcuts to your home screen for easy access.
To make a "bookmark shortcut" for the home screen, just go to website you want to add. Tap the three dots on the upper right. Tap "Add to home screen" choose "Phone home screen," and tap OK.
Also see: Huawei P40 review: Small and outstanding
For YouTube, the web app works as well as the actual app, even allowing 4k videos. But if you really want an app to handle YouTube, you can use NewPipe — a lightweight YouTube app alternative. You can install it via F-Droid (a repository app of open-source apps).
The NewPipe app is a bridge (of sorts) that connects to the front end of YouTube. It does not rely on any Google framework libraries. You don't even need to log-in. It's fast and lightweight, with some useful functions thrown in that allow for a seamless integration to YouTube.
Also see: How to install YouTube Vanced, a YouTube app alternative
Other brand Android smartphones can also use NewPipe too, by the way. Its perfect for those who want a small, lightweight app that is not resource intensive.
For email, Huawei's native email app can easily integrate with Gmail, Microsoft Exchange, Yahoo Mail, Hotmail, and other pop and SMTP clients.
Installing others apps and games
For apps and games not available in the AppGallery, you can install other app stores such as the Amazon Appstore (and, to some extent, APK Pure and F-Droid). One bonus to this is that your apps will be up-to-date.
You can also copy over full apps from your old phone (except the Google apps, of course) using Phone Clone. I actually used this method to install new apps before. Its not practical, but it works.
Also see: Huawei wants Google apps in the AppGallery
Another way to get apps is to download and install an app or game's APK files. APK, which stands for Android Package Kit or Android Application Package, is the file format of Android to distribute and install files. Take caution because this method is dangerous. Play Protect won't be there to screens the app for you. You could potentially install a compromised APK. So if you're going this route, make sure you really trust a site before downloading.
Facebook can be installed this way. You can download the official APK file from their website. For Messenger and Instagram, you can get those from the Amazon Appstore.
Also see: Here's another way to install Google Play Store on your Huawei smartphone
To do this, you first need to allow the phone to install APKs from other sources. Go to Settings> Security> More settings> Install apps from external sources.
One caveat for all of this is that there are really some apps that rely on Google APIs. For that, you need to install the Play Store. But it's not going to be easy.
And finally, the most recent Netflix app won't work, whether its from the Amazon Appstore or the Google Play Store. To get the streaming service to work on your Huawei device, you need to download and install Netflix apk below version 5.
Final thoughts
All this talk about Huawei and Google made me realize how much we rely on a handful of companies (Google in particular) for our information, communication, and entertainment needs. Whether by choice or not, we have blindly walked into dependence.
I'd be lying if I said we can easily cut the chord. At this point, even I can't get away from Google. I rely on their products for many things. Even if I wanted too, the work and hassle to get away is just too much.
It's not a bad thing to rely on them, though, but it does present a significant risk. Imagine our collective digital lives crumbling because of a few forgotten passwords, (God forbid) we get hacked, or if for some unfathomable reason, Google goes down.
Its something to consider. Stay safe and protect yourselves.