The Huawei P40 is the smaller of two smartphones in Huawei's latest P series.
As the vanilla variant, the P40 lacks the P40 Pro's highlight features like the Overflow Display, 90Hz refresh rate and Time of Flight sensor. Apart from that, it also has a slower 22.5-watt fast charging with no wireless charging and a lower IP53 rating.
But despite the differences, the Huawei P40 is still a very inviting phone, one that I have grown very fond of. It has a lot more to offer as a flagship device.
As the saying goes, the proof is in the pudding. Here's our full take on the Huawei P40.
Love the design, awesome display
The Huawei P40's design revolves around the display. It's much more traditional compared to P40 Pro fronting a flat screen with a "normal" 60Hz refresh rate. It does use OLED technology, which is a welcome addition, but a higher refresh rate (90Hz maybe) would have made it perfect.
Regardless, the display looks great. It's perfect for viewing photos and watching movies. I love how the colors are highly saturated without looking unrealistic. And I especially like that it has that warmth that give life to movies.
The 6.1-inch display on the Huawei P40 has a wide 2340 x 1080 resolution with an in-display, fingerprint scanner and a pill-shaped dual punch hole camera. Thanks to the thin bezels, it's length, and the flat screen, Huawei was able to squeeze out more screen real estate, and at the same time giving it a more "phone-like" profile that's easy to hold in the hand.
Also see: Price drop: Huawei Nova 5T cheaper on Lazada and Shopee
I am not a fan of notches and punch holes. But I definitely prefer the latter. Its not as intrusive as a notch, but its still there.
The Huawei P40's use of glass and aluminum adds to the phone's premium aesthetics. The back panel curves at the edges to meet the frame. It feels smooth to the touch, constantly reminding you that you have a flagship in your hands.
At the back you'll find one of the Huawei P40's main highlights, the Leica branded triple cameras. It is housed in a rectangular module. This year's flagships all flaunt some sort of square shaped camera housing and P40 is no exemption.
Its hard not to miss the rear camera bump , but there's a good reason for it. It houses the 1/1.28-inch sensor, which is quite large even in today's flagship standards. Despite the size, though, I feel that the bump doesn't take anything away from the sleek and slim profile of the device. I like to think of it as a badge telling everyone that it packs one of the best mobile cameras in the segment.
On the right side is the volume rocker and power button with a nice red color accent. These are easily within reach because of the Huawei P40's perfect size. The nano-SIM tray, the main microphone, a USB Type-C port, and the speaker grill sit at the bottom.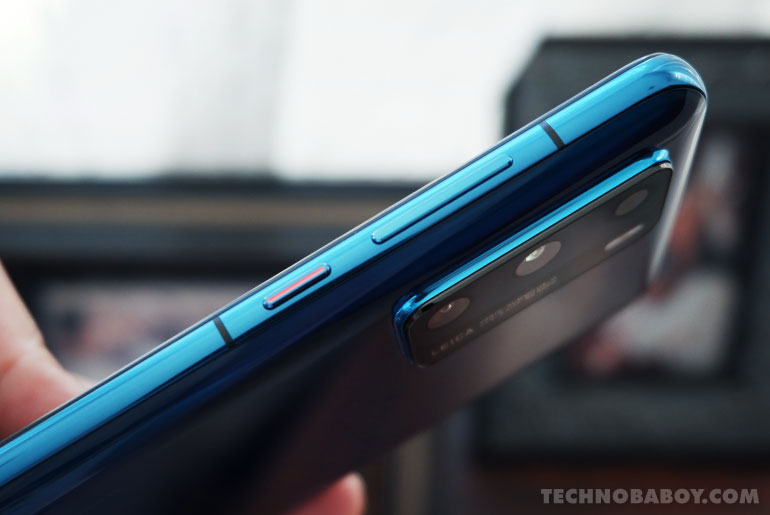 If there's one gripe I have with the Huawei P40's design is how slippery it is. I dropped the phone at least twice. The second fall gave me a mini heart attack because it slipped off my hand, hit the sink, then hit the marble floor. I thought for sure that the glass panels would shatter. Luckily, the P40 walked away with minors scratches and small dent.
Of course, this is easily remedied by a case which Huawei said the official retail package will include. My review unit, however, didn't have it.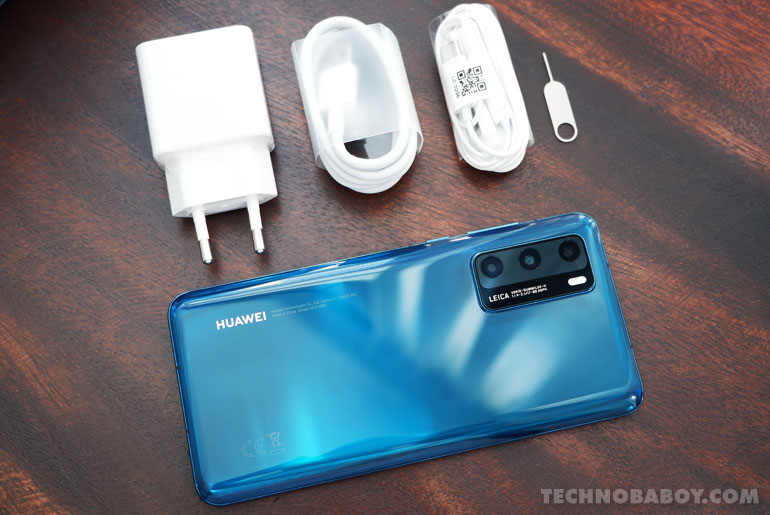 Flagship performance
The Huawei P40 is powered by an updated Kirin 990 5G processor. It's the same one inside the P40 Pro, but is slightly different from the one inside the Mate 30 Pro.
How different? Well, first, there's the 5G connectivity. Second, the Kirin 990 5G is based on a 7nm+ EUV manufacturing technology. Third, the new chip's secondary and efficiency cores have a slightly faster clockspeed. And lastly, it has more NPU cores.
The Kirin 990 5G is paired with 8GB RAM and 128GB UFS storage. Performance wise, the phone easily keeps up with the P40 Pro and other flagships from its competitors.
Basic navigation is fast, butter smooth, and very responsive. Apps and games load quickly, while easily handling heavy load.
For those who likes benchmarks, here are the scores:
AnTuTu – 449,873 (CPU 137,512; GPU 160,436; MEM 85,571; UX 66,354 )
Geekbench – 749 (Single-core); 2,923 (Multi-core)
3D Mark Sling Shot Extreme – 5,660 (OpenGL ES 3.1); 5,454 (Vulkan)
In Performance Mode, benchmark scores were slightly higher:
AnTuTu – 480,705 (CPU 150,831; GPU 172,983; MEM 86,067; UX 70,818)
Geekbench – 779 (Single-core); 3,173 (Multi-core)
3D Mark Sling Shot Extreme – 6,061 (OpenGL ES 3.1); 5,411 (Vulkan)
Great set of cameras
The Huawei P40 features Leica branded triple rear cameras with a 50MP main, a 16MP ultra-wide, and an 8MP telephoto.
The 50MP main camera has a large 1/1.28-inch Ultra Vision sensor, which uses pixel binning to pump out 12MP photos. While the telephoto camera offers up to 3x optical zoom, up to 5x hybrid zoom, and up to 30x digital zoom. For selfies, the phone uses a pill shaped 32MP punch hole camera supported by a depth sensor.
Both the front and the rear cameras can shoot 4k videos at up to 30fps.
Also see: Huawei Mate Xs 5G price in the Philippines announced; Pre-order now open
When it comes to image quality, you will enjoy using the Huawei P40. The quality of photos are outstanding. Colors are pleasant with good detail and sharpness. Autofocus is fast and accurate as well.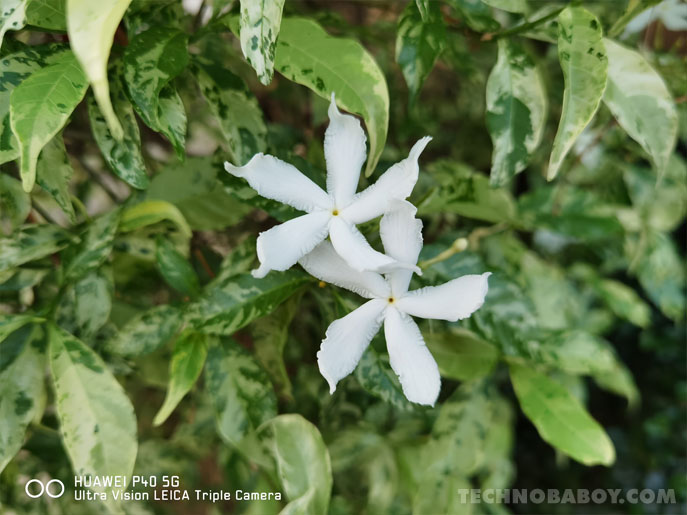 Shooting in low light is also an enjoyable experience. Image quality is great, with ample details, minimal noise, and good sharpness.
Night mode, however, is average. Images come out okay with average detail and acceptable exposure, but there's noticeable noise compared to the low light shots. The Mate 30 Pro seems to perform better at this front. Hopefully, Huawei can enhance it further with a few software updates.
Going back to the telephoto camera, the Huawei P40 also offers up to 3x optical zoom, up to 5x hybrid zoom, and up to 30x digital zoom. Here's a sample of the zoom quality from wide to max zoom. Quality looks good throughout the range. However, at max zoom the image start to look like paintings.
Selfies, on the other hand, look pleasant highlighted by accurate skin tones with ample details.
Very good battery life
The P40 has a 3,800mAh battery. I was expecting at least 4,000mAh, but at least it doesn't disappoint. The phone can last a whole day with a bit more in the next morning.
The phone supports fast charging with a bundled 22.5-watt fast charger. There's no wireless charging here. It's not a deal breaker, but it would have been nice to include it.
Charging from 0% to 50% takes less than 30 minutes. A full charge takes a bit over an hour. It's still very fast, but not the fastest.
EMUI 10.1
The Huawei P40 is top-notch when it comes to hardware. But what about the software?
The P40 runs on EMUI 10.1, based on Android 10. It comes with a few nifty features and improvements. For one, there's Dark Mode, which works well with OLED displays.
Next, you have MeeTime, a high quality HD video calling app. I tested this one with Peter from GizGuide. It looks great and works well with little latency. You can even share your live screens while in a conversation.
And you also get a new multi-window function, that allows floating windows of supported apps. Just swipe from the sides and hold for a second to pull out the panel and choose the app.
Another great function is the in-display fingerprint scanner and the IR-enhanced Face Unlock.
Huawei raised the in-display fingerprint icon in a slightly higher position compared to the Mate 30 Pro's. This made a whole world of difference when it comes to unlocking with your thumb. It's easier to reach, and it's still fast.
The Face Unlock is also faster than ever. It's unlocked as soon as you pick it up. And thanks to the ToF IR-sensor, it even works in the dark.
AppGallery and Google products
It's hard not to talk about Google apps when dealing with Huawei. We've covered it enough, that at this point many of us should be familiar with the current situation they're both in. The Huawei P40 features Huawei Mobile Services and the AppGallery. It does not come with Google apps or the Play Store.
Now I know that this may be worried. You shouldn't be. This should not stop you from enjoying all the good stuff that comes with Huawei smartphones.
For apps, the Huawei P40 has the AppGallery. It's catalog is growing and already quite expansive. Many of the popular apps are available such as TikTok, Snapchat, PayMaya and GCash, including local banking apps like BDO, Metrobank, RCBC, and Union Bank.
For BPI users, I just want you to know that you'll be fine. BPI's online banking site can be accessed through the native web browser. It functions like a web app, offering the same experience you would get with the actual app. BPI really did a good job of enhancing the portal to make it work seamlessly on mobile web browsers. In fact, I found it works faster. Just add the bookmark to the homescreen for quick access.
For those who still want to use Google's products and services, you still can use it as web apps. Many of the big G's products are web based, which means most can run on the native web browser.
YouTube, Google Maps, Google Keep, Google News, and Google Calendar (to name a few) all run via web apps. The experience is close to what you would get using the actual apps. Just add the bookmark shortcuts on your homescreen for easy access.
YouTube works particularly well as a web app. You can even watch 4k quality clips. But if you really want an app to handle YouTube, you can use NewPipe — a lightweight YouTube app alternative. You can install it via F-Droid (a repository app of open-source apps).
The app acts as a front end of the YouTube site, and does not rely on any Google framework libraries. You don't even need to log-in. It's fast and light, with some useful functions that allow it to seamlessly stream YouTube videos without any problems.
For email, Huawei's native email app can easily integrate with Gmail, Microsoft Exchange, Yahoo Mail, Hotmail, and other pop and SMTP clients.
Related: Here's another way to install Google Play Store on your Huawei smartphone
Now for apps not in the AppGallery, you can install other app stores like the Amazon Appstore, APK Pure and the aforementioned F-Droid. This has the added bonus of keeping apps up-to-date.
For Facebook, you can grab an installation APK file directly from their website. You can also copy over apps from your old phone (except Google apps, of course) using Phone Clone.
And for Netflix, you can download and install any version below 5.
One caveat for all of this though is that there are some apps that rely on Google APIs. These, unfortunately, won't run. So if you really really want Google apps and the Play Store, there's a way. But it's not going to be easy.
Verdict
The Huawei P40 has a lot of good things going for it. It comes equipped with one of the best hardware of any smartphone including class leading Leica cameras, Kirin 990 5G processor, and an overall great display. And that's besides the fact that it's beautifully designed with the perfect size.
The Huawei AppGallery can handle most of your app needs. Plus, you can still enjoy Google's products and services without the corresponding apps (with a little setup to start).
The Huawei P40 is currently cheaper in the Philippines compared to Europe with a price of PHP 36,990. It is on pre-order until April 24, 2020.
Huawei P40 specs
Display: 6.1-inch OLED Display (2340 x 1080, 422ppi)
Processor: 2.86GHz Octa-core HiSilicon Kirin 990 5G Processor
Graphics: Mali-G76 MC16GPU
RAM: 8GB RAM
Storage: 128GB UFS Storage, NanoSD Memory Card Slot
Rear Cameras: 50MP f/1.9 Main + 16MP f/2.2 Ultra-wide + 8MP f/2.4 Telephoto, 3x Optical Zoom
Front Camera: 32MP f/2.2, IR
Network: 5G, 4G, Dual SIM
Connectivity: Wi-Fi 802.11ax, Bluetooth 5.1, GPS, NFC
Ports: USB Type-C
Others: In-display Fingerprint Scanner, IP53 Dust and Water Resistant
OS: EMUI 10.1, Android 10
Battery: 3,800 mAh Battery, 22.5W Fast Charging