Here's our JBL Quantum 400 review.
JBL released the new Quantum gaming headphones early this year. The series has eight models with a wide price range for every gamer — from the entry level Quantum 50 in-ears (Php 1,799) all the way up to the flagship JBL Quantum One (Php 13,799).
Right at the middle of the pack is the JBL Quantum 400. It is priced at Php 5,999 and offers a wonderful balance between quality, audio performance, and price.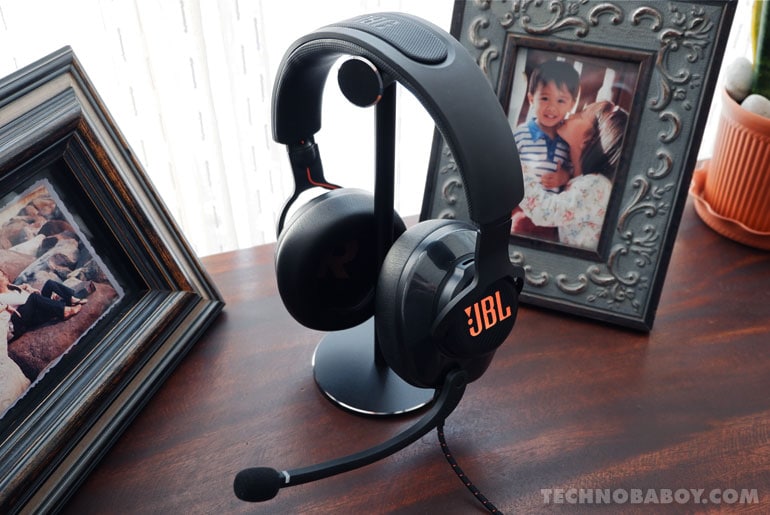 Design and Features
The JBL Quantum 400 offers excellent value for the price. Out of the box, the headset comes with two high quality cables — a 3 meter USB-A to USB-C cable for PC gaming and a 1.2 meter long 3.5mm audio cable for phones, tablets and consoles. Both are braided in black with specs of orange.
The over ear headset are well-built. Its made from high quality plastic, which is lightweight and feels very sturdy. The earcups are large oval shaped that can pivot and fold, allowing for a comfortable fit.
The JBL logos are etched at the back panel, illuminated with RGB lighting. Take note that these only work when its plugged via USB-C to supported devices. On each earcup are faux leather earpads, made with memory foam. They are soft and very comfortable to wear.
Meanwhile, the plastic headband is flexible and strong. It has a soft padding on the underside, providing a comfortable, snug and secure fit even during long hours of use. The only issue I found is that it gets warm during hot weather (especially here in the Philippines), resulting in sweaty earpads.
The left earcup has the flip-up boom mic, controls and ports. Flipping the mic up automatically mutes it. The controls are the game chat audio balance dial, which allows gamers to increase or decrease their voice, the volume wheel and a quick mute button.
The JB Quantum 400 features QuantumSURROUND, a simulated 7.1-channel surround sound. It only works when you connect the headset to a PC through the JBL Quantum Engine app. Here, you can choose between six equalizer presets or manually adjust it through a 10-band EQ. You can also customize the RGB lighting through the app.
Performance
The JBL Quantum 400 offers great sound quality, be it in games, movies or music. The sound signature is well-balanced with decent highs and mids. The bass is deep with a mild rumble. Its not as pronounced as most bassheads would like, but its highly acceptable and consistent, enough to keep most people satisfied.
The headset easily livens up games, making the experience more immersive. In mobile and consoles, sound is limited to stereo. Its still good, mind you. But you can only maximize its features, especially the 7.1-channel surround sound, on PC gaming.
As for the flip-up boom mic, it offers excellent value for the price. Sounds picked up are warm and clear, allowing for easy communication with your friends during gaming sessions. The flip-up-to-mute is very useful. And it also works great in Zoom and Google Meet, if you don't mind wearing a large headset during online meetings.
Wrap Up
The JBL Quantum 400 is a solid gaming headset that should appeal to everyone, not just gamers. It does a lot of things right with useful features, great build quality, excellent sound, and a super comfortable fit. PC and console gamers would enjoy using this, but I found that it also excels in movies, music, and online meetings.
The JBL Quantum 400 is priced at Php 5,999. It is available in Philippine online and offline stores. For details on where to get one or any of the JBL Quantum series, you may check out this link here.