Here's our review of the 34-inch LG 34WL85C-B Curved UltraWide 4K monitor.
The LG 34WL85C-B is a 34-inch UltraWide QHD monitor built for productivity and entertainment, be it for business or personal use. It features a curved IPS panel with 4K resolution, HDR10, and built-in speakers.
After spending some time with it, we're here to share our experience with the product.
Setup
The 34WL85C-B is easy to assemble. Start by placing the stand on the base and secure with the screw at the bottom. Then, mount the monitor on the stand, connect the power and HDMI cables and you're ready to go. Take note that the monitor is surprisingly heavy, and while one person can assemble it, its safer to have someone on hand to help you.
Design and Features
The wide 34-inch 4K panel is designed to immerse users in content. It has a clean and minimalist look which highlights its most important feature, the display. The top and side bezels are really narrow, almost invisible, allowing for that edge-to-edge viewing experience.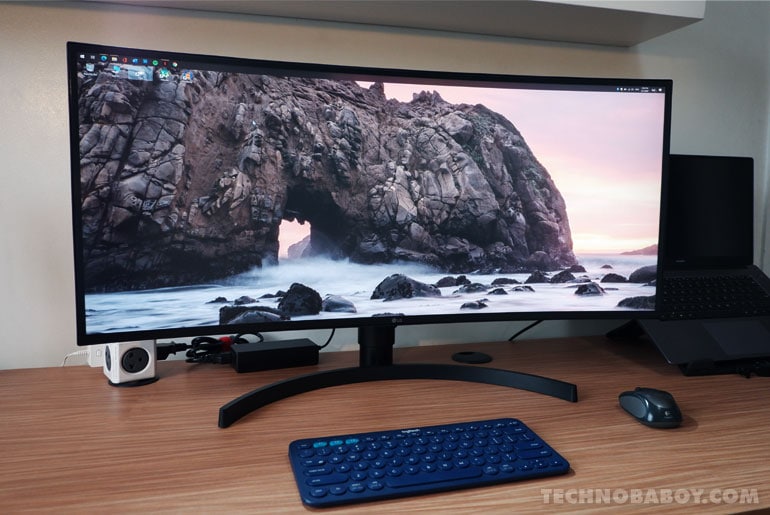 There's a heavy duty stand with a curved base that maximizes stability. It also has a telescopic arm and a tilting mount that lets users adjust and position the monitor for the most optimal view.
At the back, you have a VESA mount and multiple ports, including two HDMI 2.0 ports, two USB-A ports, a DisplayPort 1.4, and a 3.5mm audio jack.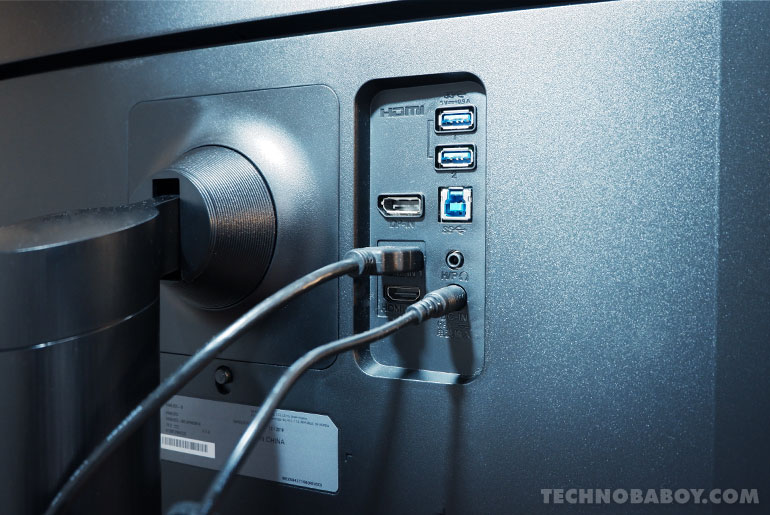 As for controls, there's a six-axis joystick underneath the bottom bezel. Once you get used to it, you'll find that changing settings is much more convenient than with clunky OSD buttons.
Display and Sound
The 34WL85C-B has a 34-inch ultra-wide 21:9 IPS panel with 3440 x 1440 resolution, 60Hz refresh rate, HDR10, and a 5ms response time. It offers up to 300 nits of brightness with 99% sRGB color gamut and 700:1 (minimum) and 1000:1 (typical) contrast ratio.
The 34-inch diagonal fits multiple windows at the same time. The 21:9 aspect ratio means you have space to try out different window layouts that suit your workflow. I often used it with Microsoft Word on the left, while running Spotify on the bottom right, and another Chrome window on the top right.
Of course, you can always opt to use the whole screen if needed. Its great for video and photo editing, and those who work in large Excel sheets.
The display panel comes with an anti-glare coating which helps minimize eye strain. Matte panels are great for productivity, especially helpful during long hours of use. Despite this, though, the monitor still has decent contrast and brightness.
For those who enjoy watching movies, the monitor supports HDR10 which boosts contrast in supported content. You will get black bars at the sides because the monitor is so wide, but its no biggie. It also has built-in speakers which I find sound reasonably good.
Hardcore gamers might be put off by the 5ms response time and 60Hz refresh rate. There's no support for G-Sync either. While its okay for some games, faster ones with high FPS might not run as smooth.
Wrap Up
The LG 34WL85C-B Curved UltraWide 4K monitor is great for productivity and media consumption. It will satisfy most users with its immersive display, high brightness levels, good contrast, and vibrant colors. The adjustable stand and tilting mount, which I feel deserve a mention here, are great additions, allowing for ergonomic adjustments to boost comfort.
For those thinking about getting one, the monitor is priced at Php 45,990. Its admittedly expensive. But if you can afford it, you won't be disappointed with this highly versatile monitor.