TL;DR: ASUS ZenBook 13 OLED and ASUS ZenBook Duo 14 are now official in the Philippines.
ASUS Philippines launches its latest ASUS ZenBook 13 OLED and ASUS ZenBook Duo 14.
These laptops promise the POWER OF MORE with top-notch performance, extreme portability, and unique style for the next level of uncompromised productivity.
ASUS ZenBook Duo 14
The ASUS ZenBook Duo 14 features a 12.6-inch ScreenPad Plus, a secondary display that sits just above the keyboard.
The 2021 model went through an internal layout redesign to enable an ErgoLift hinge and an Active Aerodynamic System (AAS) Plus thermal system, which lifts the ScreenPad Plus by up to 7-degrees for a more ergonomic angle, and the laptop itself off the desk to optimize cooling performance. The laptop weighs only 1.6kg and is 16.9mm slim.
The ZenBook Duo 14 UX482EA comes with an Intel Evo variant of up to an 11th Generation Intel Core i7 processor with multiple cores and paired with 16GB RAM. It has an ultrafast storage of up to a 1TB PCIe 3.0 SSD and features ASUS Intelligent Performance Technology (AIPT) to boost performance of up to 40% compared to a similar standard laptop.
ALSO READ: ASUS ROG Zephyrus G14 now available in the Philippines
The ZenBook Duo 14 UX482EG, on the other hand, will come with an NVIDIA GeForce MX450 GPU. It also has AIPT mode, which when switched to Performance mode will boost GPU performance by up to 20%, versus standard mode due to a TGP boost.
Control Panel
To help creators accelerate workflows with the ScreenPad Plus, ASUS has added a new Control Panel app to the ScreenXpert User Interface (UI). This function currently supports Adobe Premiere, After Effects, Photoshop, and Lightroom Classic.
When the user opens any of the supported apps, the Control Panel app opens a corresponding panel suited to each software set, enabling commonly used functions such as zoom, brightness, and contrast via sliders, buttons, and dials.
Creators can fully customize the functions and icon positioning for each of the app specific decks. The Control Panel will automatically launch the deck assigned to each of the supported apps.
ASUS ZENBOOK 13 OLED
The ASUS ZenBook 13 OLED is made of diamond-cut aluminum alloy. It has a sleek form factor with a a side profile of just 13.9 mm and weighs just 1.14kg.
The laptop has a 13.3-inch OLED HDR display that supports 1920 x 1080 resolution and 0.2 ms response time. The display has a cinema-grade 100% DCI-P3 color gamut and PANTONE validation, making colors richer and more vivid.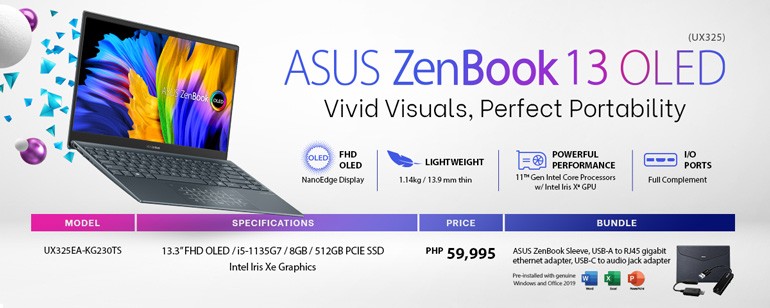 It is equipped with the 11th Generation Intel Core i5 processor, with 8GB RAM and 512GB PCIe 3.0 NVMe SSD. It also has a Thunderbolt USB-C, standard HDMI 2.0, and USB 3.2 Gen 1 Type-A ports, along with a microSD card reader.
ALSO READ: ASUS ZenBook 14 UX435EG review
A 67-watt-hour battery powers the laptop and offers up to 13 hours battery life. A fast charge function can charge the battery from 2% to 60% in just 49 minutes.
Price and availability
The ASUS ZenBook Duo 14 and the ASUS ZenBook 13 OLED are now available in ASUS concept stores and partner retailers nationwide.
The laptops are also online on ASUS' official Lazada and Shopee pages as well as the ASUS E-Store.
ASUS ZenBook Duo 14 UX482EA: Php 79,995
Intel Core i5-1135G7, Intel Iris XE, 16GB RAM, 512GB SSD
ASUS ZenBook Duo 14 UX482EG: Php 99,995
Intel Core i7-1165G7, NVIDIA GeForce MX450 2GB, 16GB RAM, 1TB SSD
ASUS ZenBook 13 OLED UX325EA: Php 59,995
Intel Core i5-1135G7, Intel Iris XE, 8GB RAM, 512GB SSD
ASUS ZenBook Duo 14 specs
Display: 14-inch Display, 1920 x 1080, 400 nits, 4mm Thin Bezels, 93% Screen-to-body Ratio
Processor:
Intel Core i5-1135G7 for the UX482EA model
Intel Core i7-1165G7 for the UX482EG model
GPU:
Intel Iris XE for the UX482EA model
NVIDIA GeForce MX450 2GB for the UX482EG model
RAM: 16GB LPDDR4X RAM, 4266MHz
Storage:
512GB PCIe 3.0 NVMe SSD for the UX482EA model
1TB PCIe 3.0 NVMe SSD for the UX482EG model
Camera: HD Infrared Webcam with Windows Hello
Connectivity: Wi-Fi 6, Bluetooth 5
I/O Ports:
2 x Thunderbolt 4 USB-C
1 x USB 3.2 Gen 1 Type-A
1 x HDMI 1.4
1 x 3.5mm Audio Jack
1 x MicroSD Reader
Others: Touchpad, Certified Harman Kardon Speakers, Array Mic with Cortana, AI Noise Cancelling
OS: Windows 10 Home
Battery: 70Wh Lithium-polymer Battery with up to 17-hours Battery Life
Weight: 1.6 kg
ASUS ZenBook Duo 13 OLED
Display: 13.3-inch OLED FHD3 Display, 1920 x 1080, 16:9, 100% DCI-P3, TUV Rheinland Eye Care certification, PANTONE Validated
Processor: Intel Core i5-1135G7
GPU: Intel Iris XE
RAM: 8GB LPDDR4X RAM, 4266MHz
Storage: 512GB PCIe 3.0 NVMe SSD for the UX482EA model
Camera: HD Infrared Webcam with Windows Hello
Connectivity: Wi-Fi 6, Bluetooth 5
I/O Ports:
2 x Thunderbolt 4 USB-C
1 x USB 3.2 Gen 1 Type-A
1 x HDMI 1.4
1 x MicroSD Reader
Others: NumberPad 2.0, Certified Harman Kardon Speakers, Array Mic with Cortana, AI Noise Cancelling
OS: Windows 10 Home
Battery: 67Wh Lithium-polymer Battery with up to 13-hours Battery Life
Weight: 1.14 kg