Huawei smartwatches are far and away excellent devices. And its latest flagship smartwatch, the Huawei Watch GT 3 Pro, is no exception.
The Watch GT 3 Pro has a lot to offer, including a great design, long battery life, and exceptional build quality. But what sets it apart from others is its health features.
In fact, Huawei said the Watch GT 3 Pro is categorized as a certified Class ll medical device by China's National Medical Products Administration and is used by the Chinese medical community to monitor patients. And while there are no certifications of the same in the Philippines, it is still a great tool to help you keep an eye on your health and fitness.
In this review, we'll take a close look at the Huawei Watch GT 3 Pro Titanium edition and find out why it could be one of the best smartwatches of the year.
Design & Build
The Watch GT 3 Pro is by far one of the most beautiful smartwatches on the market right now. The titanium variant has a 46mm casing with sapphire glass. There's also a ceramic option with a smaller 42.9mm case size. It's lighter and clad in white with gold trimmings.
The smartwatch's titanium body has a seamless, angular design with clean lines and smooth contours. The edges are chamfered and the sides have a brushed metal finish. All this adds up to the watch being very comfortable to wear.
At the two o'clock position, you have the rotating crown, and just below it at the four o'clock position is the ECG button. The ECG button has another function wherein you can assign a specific shortcut to it. In my case, I have it set to activate flashlight mode when pressed.
Interestingly, rotating the crown is accompanied by haptics that feels like it's clicking. Although it feels artificial, I can't deny that it adds value to the smartwatch experience and gives off the impression that it feels precise when you use it to navigate the device.
The display measures 1.43-inches with an AMOLED panel. It has a 466 x 466 resolution and a 326 ppi. The text and icons on the screen are crisp and sharp. And as AMOLEDs go, it has deep blacks and punchy colors with great viewing angles and decent sunlight legibility.
The backplate has a smooth nanocrystalline ceramic cover. It's not only strong and durable but it also has a smooth surface that further adds to the comfort.
The lugs accept 20mm straps. The one that comes with this model is made from genuine leather which further adds a premium experience. The straps have an easy remove switch should you decide to replace them.
The Huawei Watch Pro also comes with IP68 and 5 ATM (up to 50 meters) ratings for water resistance. It can be used for swimming in the pool or the ocean. I took it on vacation to the beach and wore it while snorkeling without any issue.
Moreover, Huawei says the smartwatch meets the requirements of the EN13319 standard for diving accessories and supports free diving with a maximum depth of 30 meters. But they do warn not to use it in activities that involve high water pressure (such as platform dives and high-pressure rinsing) or, high temperatures, high levels of humidity, or fast-flowing water.
Software & Features
The Huawei Watch GT 3 Pro runs on HarmonyOS. It's a responsive UI with colorful icons and graphics. Navigating it is a pleasant experience, as the animations are smooth. Coupled with the aforementioned haptics and you have an enjoyable smartphone experience.
The smartwatch works on both Android and iOS devices. You need the Huawei Health app to pair it to your phone. The app is available on the Play Store, the App Store, and Huawei's AppGallery. For Android phones, you also download the APK from Huawei's website and sideload it to install.
The Huawei Health app is the gateway to the Watch GT 3 Pro. There, you can update the firmware, download additional clockfaces, monitor health and fitness data, manage other health devices, and more.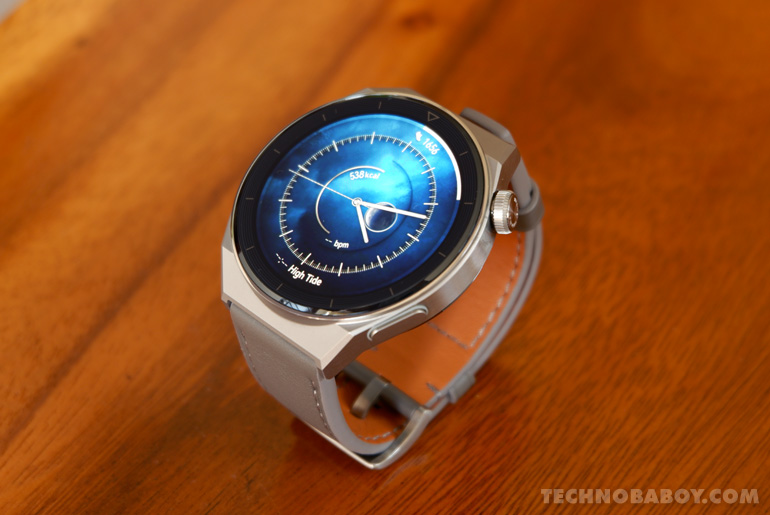 The Watch GT 3 Pro comes with the typical set of features you usually find on smartwatches. Personally, the ones I rely on the most are the notifications and the calls and messages handling. On Android, you can reply with canned messages which you can set via the Huawei Health app. Sadly, the reply feature is not available for iPhones.
You can add more apps via the AppGallery if you want to broaden the functionality of the device. And like other smartwatches, there are not many apps that I found that I would use on a regular basis. In my case, the watch itself already has most of the apps that I need.
For its health and wellness features, the Watch GT 3 Pro comes with a pedometer or step counter, a heart rate sensor, TruSleep monitor, SpO2 measurements, stress monitoring, temperature measurements, advanced arterial stiffness detection, and activity reminders.
Probably one of its most impressive features is the medical-grade ECG analysis. The ECG app has a high-performance ECG sensor module, which provides single-lead ECG measurements, real-time analysis, and sinus rhythm.
To use the ECG monitoring, first make sure the watch is snug on your wrist. Next, go to the ECG app to start, and then place the index finger of your opposite hand on the ECG button for 30 seconds.
The ECG results from the watch will give you information about heart health. And while basic information is very useful, it goes without saying that you should consult your doctor if you have any concerns about your heart.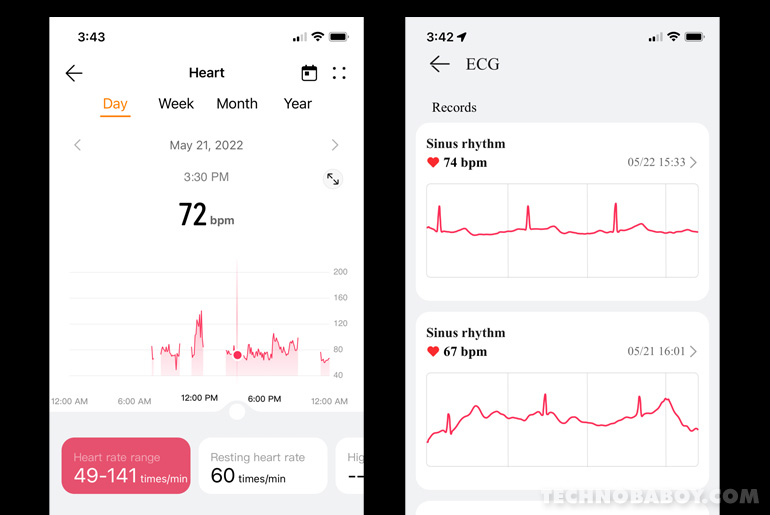 The smartwatch also comes with over 100 workout modes, including running, cycling, mountain climbing, indoor swimming, open ocean swimming, and more. For golfers, it can record swing data (such as the swing speed, swing tempo, backswing time, and downswing time) that can help improve your game.
Fitness Tracking
I certainly became more aware of my own health and fitness during my review of the Watch GT 3 Pro. From what I can see, it accurately tracks my activities and heart rate during exercise routines.
I usually just do daily home workouts with medium to hard intensity that lasts anywhere between 40 to 45 minutes. Using the "Other" workout mode, the watch tracks my heart rate and the intensity of the workouts.
The sleep monitor is another feature I found that I check a lot. In my case, it records and shows me information about the quality of sleep that I get and the length of sleep times.
The watch works well with another smart device, the Huawei smart scale. It also connects to the Huawei Health app. With the two devices together, I get more information about my current fitness which gives me a clearer picture of where I am in terms of my health goals (and yes, it said I need to lose more weight).
Battery Life
Huawei said the Watch GT 3 Pro has up to 14 days with typical use and up to 8 days with heavy use. During testing, the numbers I got came close.
In 4 days of use, the battery dropped to 50 percent. I had it connected to my phone the whole day with daily 40-minute exercises and various message notifications. At the end of day 7, it had only 20 percent left.
The charging speed is decent. A 30-minute charge reached 35 percent. A full charge took almost 1 hour and 30 minutes.
The watch also supports wireless charging, which is convenient especially if you have other devices that support it.
Final Thoughts
The big question now is — "Should you buy it?" — and my answer is yes. The Huawei Watch GT 3 Pro is certainly one of the best smartwatches right now. It's worth the money with so much to offer.
At P16,999, you get what you pay for. And in this case, you're paying for a premium smartwatch experience with a great build, a gorgeous design, top-end health and fitness features, and up to two weeks of battery life.
Of course, it goes without saying that while the smartwatch does offer insightful data about your overall health and fitness, it should never ever be used as the basis to self-diagnose. Should you have any concerns about your health and well-being, it's always best to consult your doctor.
Price and Availability
The Huawei GT3 Pro Titanium is priced at P16,999. It is available in online and offline stores. Check out these links on where to get one.
Huawei Watch GT 3 Pro specs
Display: 1.43-inch AMOLED Display, 466 x 466, 326ppi
Dimensions:
46mm case
Fits wrists 140-210mm
54g without strap
Storage: 4GB
Connectivity: GPS, Bluetooth, NFC (For some countries)
Others: Titanium + Sapphire Glass Construction, Microphone, Speaker, ECG, Rotating Crown, IP68 Certification, 5ATM (Dive up to 30 meters)
Watch Strap: Black Fluoroelastomer Strap, Grey Leather Strap
OS: Harmony OS
Battery: Up to 14 days with typical use, up to 8 days with heavy use, wireless charging