Smart Communications has opened its SIM Card Registration portal for Smart and TNT subscribers, in accordance with the SIM Card Registration Act or RA 11934.
[Editor's note 01/12/23: DICT has declared the deadline for SIM registration is on April 26, 2023. You can read our story here for more details.]
Smart's SIM registration portal uses optical character recognition (OCR), the technology required by the law to efficiently gather and protect subscribers' personal information throughout the process.
How to register your Smart Prepaid/TNT SIM card
Smart Prepaid and TNT subscribers can now register their SIM cards and get free 3GB of data upon completing these three easy steps.
Step 1. Visit the portal at http://www.smart.com.ph/simreg.
Step 2. Input all needed information (Full name, Date of Birth, Gender, Address, and Nationality) and upload your valid ID and a selfie photo.
Step 3. Wait for an SMS confirmation and get 3GB FREE Data.
See also How to register your SIM cards with Smart, Globe and DITO
Smart is also making its SIM Registration portal even more accessible to subscribers through these alternative channels:
Smart Stores nationwide
Smart Hotlines (call *888 via Smart/TNT mobile, or 8888-1111 via landline)
Smart Facebook Messenger Chatbot
Smart GigaLife App (downloadable on the App Store and Google Play Store)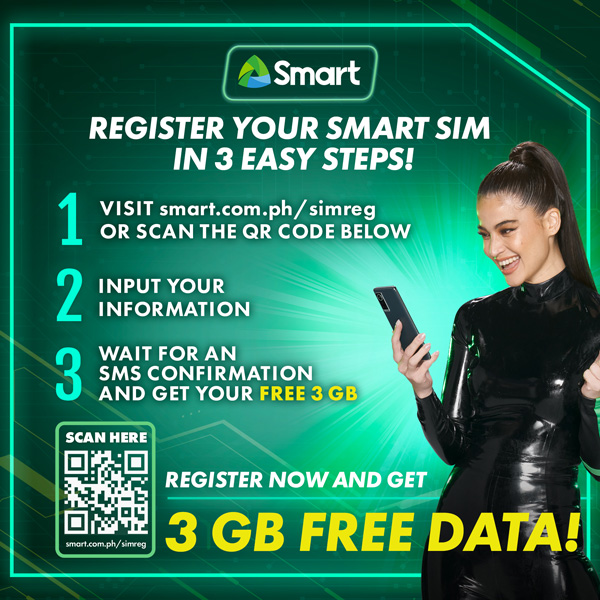 How to register your Smart Postpaid SIM Card
For Smart postpaid subscribers, you simply need to confirm the personal information and IDs you have submitted during your postpaid plan application.
To do this, just text YES to 5858. You shall then receive a confirmation message from Smart upon successful SIM Registration.
How to register the SIM card for Smart Bro subscribers
The registration process is the same. However, Smart Bro subscribers can go here for instructions on viewing the OTP.
Safeguarding subscribers
The launch of Smart's SIM Registration portal is in line with the SIM Registration Act, which aims to curb the proliferation of text scams and other mobile phone-aided criminal activities.
Alongside their support for SIM registration, Smart and parent company PLDT's long-standing consumer protection initiatives include blocking SIMs that send 'smishing' messages and Uniform Resource Locators (URL) or links that lead to illegal activities.
See also What you need to know: Smart, Globe guidelines and FAQs for SIM Card Registration
In 2021, PLDT and Smart invested nearly ₱3 billion in cybersecurity infrastructure to help safeguard the public against emerging cyber threats, vulnerabilities, and other online criminal activities.