The PRISM+ F240n is a 24-inch gaming monitor that has caught the attention of many gamers with its impressive specifications and affordable price point. In this review, we'll take a closer look at what the PRISM+ F240n has to offer and whether it lives up to the hype.
Here's my experience with the PRISM+ F240n gaming monitor. Let's dive in.
Design and Build Quality
The PRISM+ F240n has a sleek and modern design. Its clean and minimalist look is a boon for those who like a simple and clean desktop setup. I like how PRISM+ refrained from making it look too "gamery", refraining from aggressive gaming aesthetics.
The only gamery elements it has are the two strips of RGB lighting at the back, which were tastefully done, I might add, sticking to its minimalist design language. You can customize the RGB lights via the OSD settings.
The monitor is made from high-quality materials and feels sturdy and well-built. The slim bezels on the top and sides of the screen make for an excellent viewing and gaming experience.
The stand and base are also well-built, both made of metal. Unfortunately, it offers a limited range of movement with just tilting up and down adjustments. Despite this, finding a good viewing angle was not difficult to achieve, but you might need a riser if you want more height. The monitor also supports VESA mounting, so you can easily mount it on a monitor stand.
Display Quality
The PRISM+ F240n features a 24-inch IPS display with an FHD 1920×1080 resolution and a matte anti-glare coating. It has a TN panel with a 105% sRGB Wide Color Gamut, which means it can display more colors than a standard monitor.
TN panels often have limitations. While it's faster and more responsive (ideal for gaming), it does have lower contrast and viewing angles compared to an IPS panel. Regardless, during testing I found the F240n to have decent viewing angles. At the same time, the contrast is fine for most use cases as well.
The monitor has a refresh rate of 165Hz, which is quite high for most monitors in this price range. This makes for smoother and more fluid gameplay. However, 165Hz is only available via DisplayPort. On HDMI, the highest you can go is 144Hz, which is still pretty high.
The F240n also has a 1ms response time, which means you won't experience any motion blur or ghosting during action scenes, and Adaptive Sync technology, which minimizes screen tearing, stuttering, and ghosting.
There are different view modes you can choose from: Standard, Game, Movie, Web, and Text. Under Game, you have FPS1, FPS2, RTS, Night Vision, Gamer 1, Gamer 2, and Gamer 3.
Each view mode has different settings for brightness, contrast, color temperature, sharpness, gamma, hue, saturation, low blue light, and adaptive sync. You can also customize your own view mode by adjusting some of these settings manually.
The game mode is designed for general gaming with high brightness and contrast. FPS mode is optimized for first-person shooter games with enhanced visibility in dark scenes. Movie mode is ideal for watching videos with vivid colors and smooth motion.
You might also like: Lenovo G24-20 23.8-inch 144Hz monitor review
During my evaluation, I found Standard Mode to be good for most scenarios, including gaming and watching videos. I lowered the brightness to around 50 and 60, which improved colors and contrast.
Connectivity
The PRISM+ F240n offers a range of connectivity options, including two HDMI 1.4 ports, a DisplayPort 1.2, and a 3.5mm audio out jack, which is enough for monitors in this price range. It should make it easy to connect to gaming PCs or consoles and other peripherals, such as speakers or headphones.
Take note that the monitor only comes with a DisplayPort cable in the package, which means you have to use your own HDMI cable if that's what your setup supports.
One thing that bothered me was that the HDMI 1 port is placed directly behind the metal stand. It doesn't seem to affect the tilt of the monitor, but the stand pushes against the chord.
User Experience
The PRISM+ F240n is quite easy and straightforward to use. The monitor's OSD menu is easy to navigate, and the various settings can be adjusted using the joystick located on the bottom of the monitor.
Pressing the joystick turns the monitor on or off. Pushing it to the right brings out the OSD while pushing it to the left brings up input select. Toggling it toward you brings up crosshairs for FPS games. Toggling it away lets you choose between different view modes.
The monitor also has a low blue light filter and flicker-free technology, which reduces eye strain and fatigue during long gaming sessions.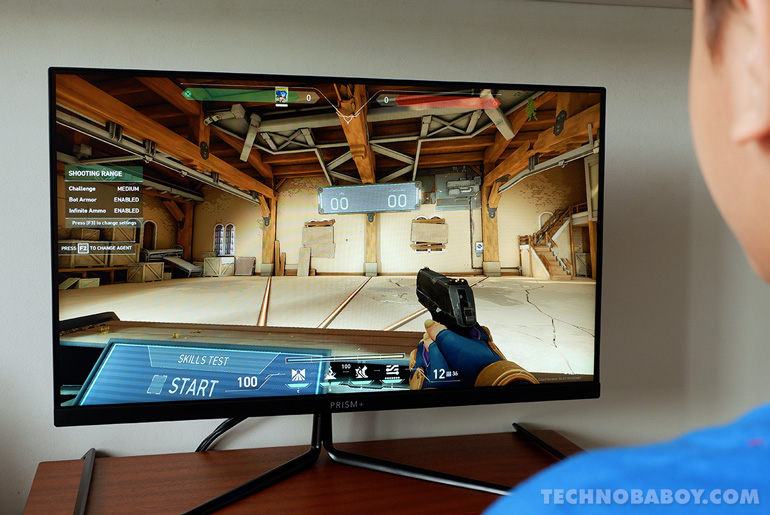 During the evaluation, I played three games on the monitor — Marvel's Guardians of the Galaxy, Valorant, and Star Wars Jedi: Fallen Order. I'm not much of a gamer, but I found that all of them looked good. The colors and contrast look great. There's minimal ghosting as well. Leveraging on the high 144Hz refresh rate, the gameplay was very fluid. For added measure, I also connected a Nintendo Switch (the only console I own) and the quality was fine.
Verdict
Overall, I found the PRISM+ F240n to be an excellent gaming monitor for the price. The monitor's sleek design and well-built stand make it a great choice for any minimalist gaming setup, while the high refresh rate and low response time make it ideal for fast-paced games.
Meanwhile, the monitor's punchy colors and decent viewing angles also make it a great choice for gamers with a limited budget.
If you're in the market for an affordable gaming monitor that doesn't compromise on performance or features, the PRISM+ F240n is definitely worth considering. With its impressive specifications and great user experience, it's a monitor that will help you take your gaming up a level without breaking the bank.
Price and Availability
The PRISM+ F240n is priced at ₱8,999, available at the official PRISM+ Lazada store.