The Land Transportation Office (LTO), the Metropolitan Manila Development Authority (MMDA), and the local government units of Metro Manila signed a memorandum of agreement and data sharing agreement to implement a single ticketing system in the region. The agreements were signed to connect the Metro Manila LGUs with the Land Transportation Management System (LTMS) of the LTO.
The implementation of the system is set for May 2, and the pilot testing will be conducted by the MMDA with the cooperation of seven LGUs, namely: San Juan, Muntinlupa, Quezon City, Valenzuela, Parañaque, Manila, and Caloocan.
The MMDA will provide handheld devices to apprehending officers that can provide options for cashless payments to violators. MMDA Acting Chairman Atty. Don Artes stated that this move will help minimize corruption and eradicate forms of negotiations between the motorist and the officer.
Furthermore, the single ticketing system will harmonize the existing national and local laws on traffic enforcement, as well as penalties and fines for the most common traffic violations stated in the Metro Manila Traffic Code.
The integration will enable different systems to communicate with each other, to offer a unified solution. The move aims to establish effective transport and traffic management in Metro Manila by standardizing apprehension procedures, payment of fines, and redemption of vehicle plates and driver's licenses, among others.
In a previous report, Chairman Artes said "The single ticketing system would help avoid confusion among our driving public, as well as the option to pay electronically for their violations. Driver's license will also not be confiscated during apprehension."
For any issues and concerns, motorists are encouraged to submit their complaints and suggestions to the agency through the "Isumbong Mo Kay Chief" QR code platform.
Traffic Violation Fines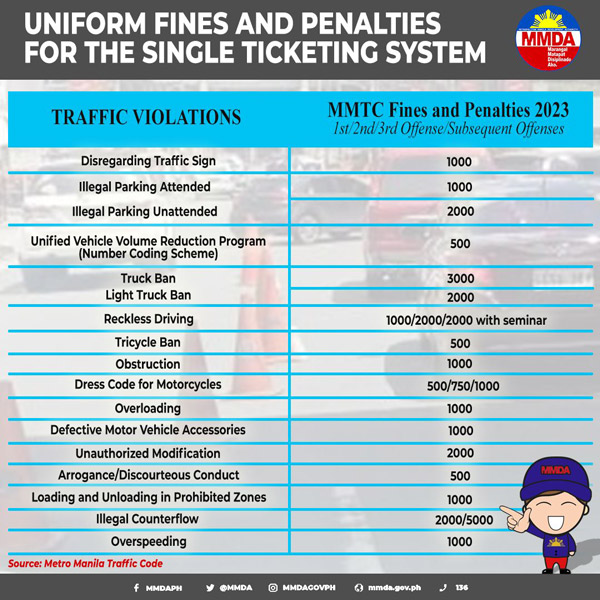 Traffic Violation Fines Under Special Laws
Source
Image: LTO Facebook