This is a rather late review considering that the 11-inch Macbook Air launched months ago. However, this device is one of the prettiest I've seen so I still wanted to do a review.
Apple MacBook Air Specs and Features
1.4GHz Core 2 Duo processor
2GB 1066MHz DDR3 SDRAM
64GB or 128GB flash storage
Nvidia GeForce 320M graphics processor
1366×768 glossy 11.6-inch LED-backlit widescreen display
2 USB 2.0 ports
Mini DisplayPort
iSight
802.11n AirPort Extreme
Bluetooth 2.1+EDR
headphone minijack with support for Apple Earphones with Remote and Mic
stereo speakers
omnidirectional microphone
Design
When the Macbook Air first appeared at retail stores, I was really amazed at its very thin profile. This laptop is ridiculously thin I can use it as a shaver.  Ok, I'm exaggerating here but this is meant to drive home my point.  The 11-inch Macbook Air is only 3mm at its thinnest part and 17mm at its thickest you wonder how Apple has crammed everything into this very thin device.  Apple seems to have perfected the art of making ultra thin laptops.
You would think that because it is made of aluminum it would feel heavy on your hand.  But surprisingly, this baby is very light and very portable.  This Macbook Air weighs 1.06kg so it is definitely light, and lighter than most of current netbooks.  Because of its aluminum body, the Macbook Air feels really sturdy.  You hardly feel any flex.
Overall, the design is elegant.  The only thing I don't like is the aluminium bezel around the screen.  A black glass frame would have made the design perfect.
Screen
One of the nicest things about the Macbook Air is the screen. The display measures 11.6 inches diagonally with a resolution of 1,366×768 pixels, higher than that of most netbook displays.  It's extremely bright and colorful.  Videos and photos on this MacBook Air look sharp, colors are vibrant.   The Macbook Air's screen is the best I've seen in an ultraportable.
Keyboard and Trackpad
The keyboard on the Macbook Air is a pleasure to use.  The keys are large enough so typing is not a problem.   And have really good tactile feedback.  Unlike the MacBook Pro, however, the Macbook Air keyboard has no backlight.
The trackpad is equally excellent.  The Macbook Air uses a buttonless Multi-Touch trackpad. That means you can perform multi-touch gestures. It is very responsive and extremely satisfying to use.
Performance
The 11-inch version of the MacBook Air comes in two configurations. The lower model gives you a 64GB of flash storage, a dual-core 1.4GHz Intel Core 2 Duo CPU, 2GB of RAM and an Nvidia GeForce 320M graphics card.  The higher configuration has 128GB of flash storage.  It is a good thing that the Macbook Air uses flash storage.  It is safer than hard drive because it doesn't have moving parts.  And it's proven to be faster.
The Air's specs are not impressive on paper.  It's a Core 2 Duo processor, not a Core i3, i5, or i7, so you would expect the performance to be a bit wanting.  The RAM is also a bit slow at 2GB when 4GB seems to be the standard.   Surprisingly though, the Macbook Air doesn't disappoint in terms of performance.  Navigating the Mac OS X is nice on the Macbook Air.  Applications load fast enough and opening softwares all proved reasonably swift.
With the specs of the Macbook Air, however, I doubt if it can handle intensive computing tasks.  It may be able to handle a simple photo editing but video editing is out of the question.
Price and Configurations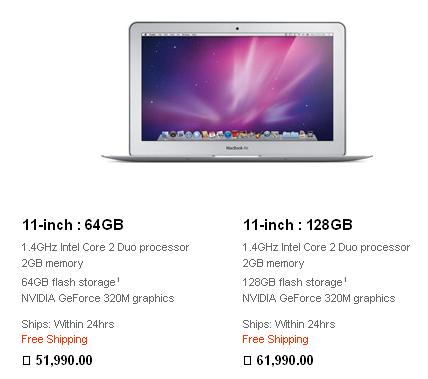 Conclusion
The 11-inch Macbook Air is really a thing of beauty.  The ultra slim design makes it a very portable device so if portability is what you are after, the Macbook Air will be a good purchase.  It is small and light, yet it packs a punch when it comes to performance.  The processor may seem dated but it still is fast. And with the inclusion of a dedicated Nvidia GeForce graphics card and the use of a flash storage, the Macbook Air is quite fast for most applications.
The Macbook Air's screen and keyboard are really impressive.  These are probably the best features of this ultraportable.
The deal breaker here is the price.  The lower configuration costs Php51,990 and the higher configuration costs Php61,990.  If you have the cash to purchase a Macbook Air, you might want to consider getting a Macbook Pro.
The Good: Beautiful design, light but sturdy, very nice display and keyboard, fast performance.
The Bad: No SD card slot, old processor, 2GB RAM is insufficient, limited hard drive space, keyboard isn't backlit, expensive
Rating: 8.7/10