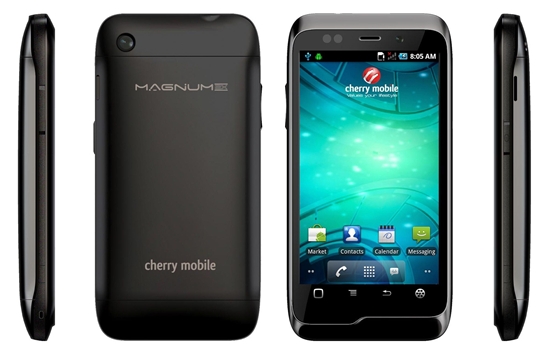 If there's any local phone brand that really tries to play with the big brands, it's Cherry Mobile.  There's Torque and MyPhone but in terms of handset offerings, Cherry Mobile is clearly ahead of these two.  Now Cherry Mobile just strengthened its phone lineup with the Magnum 2X, a follow up to the Magnum HD.
Cherry Mobile Magnum 2X is a dual-core Android handset.  It's not a typo. Magnum 2X is really powered by a dual-core Nvidia Tegra 2 Cortex A9 processor, each running at a speed of 1GHz.  With a dual-core CPU, the Magnum 2X is capable of seamless multitasking and fast web browsing, not to mention a much improved gaming experience.
The Magnum 2X has a 3.8-inch display, bigger than the 3.5-inch display on the iPhone.  It has 8GB storage for ROM, expandable up to 32 GB via microSD, and 512MB for RAM.  The handset runs on Android 2.2 Froyo but according to Cherry Mobile, it can be upgraded to Android 2.3 Gingerbread.   The Cherry Mobile Magnum 2X also offers a host of connectivity options including GPS technology and Wi-Fi and also functions as a portable Wi-Fi hotspot.   It also has two cameras, with the back shooter at 5 megapixels.
The best part? Cherry Mobile is offering the Magnum 2X for only Php15, 899.  It's already available in all Cherry Mobile stores nationwide.