A waterproof version of the Samsung Galaxy S4 has just been announced.  Samsung calls it the Galaxy S4 Active, and from the name it is meant for those with active lifestyles.  It's basically the same Samsung Galaxy S4 handset but with a few enhancements, foremost of which is waterproofing.
The Samsung Galaxy Active has an IP67 rating, which means it is waterproof and dustproof.   The IP in the rating refers to the "International Protection against ingress of solid foreign objects and harmful ingress of water", where the highest level is IP68.  The Samsung Galaxy S4 Active can be submerged underwater up to three feet deep and can last up to 30 minutes in that state.  Not bad for a smartphone.  The Galaxy S4 Active is definitely Samsung's answer to the waterproof and dustproof Sony Xperia Z.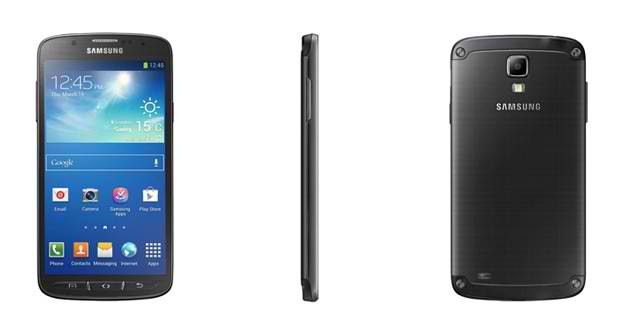 The Galaxy S4 Active also has a water-resistant headphone socket to match the water-resistant body.  When you're taking underwater shots, you can use the camera's new aqua mode setting which is supposedly optimized for underwater shots.   The Galaxy S4 Active also packs a barometer for those who are active on land.  It even incorporates a "glove touch" technology which lets users operate the phone even when they're wearing gloves.  The volume key on the Galaxy S4 Active can be used as a camera key and the camera can be used as an LED flash light that is useful in during night time.
The hardware specs for the Samsung Galaxy S4 Active are quite familiar.  It has a 5-inch (TFT LCD) 1080p display (443 ppi) and is powered by a 1.9GHz quad-core processor.  It also has an 8-megapixel rear camera, a 2-megapixel front facing camera, a 2,600mAh battery and packs an LTE radio.  The Galaxy S4 Active runs Android 4.2.2 with the familiar TouchWiz UI and the same software enhancements available in the Galaxy S4.
The Galaxy S4 Active will be available in Urban Grey, Dive Blue and Orange Flare colors.  The Samsung Galaxy S4 Active will be initially available in US and Europe.  There's no word as to the handset's pricing and its availability in other parts of the world including the Philippines.