There are brands that you hear about and somehow the name just does not stick.  When you hear it again you wonder if you've heard it before and also wonder what the brand is associated with.   Cygnett is one such brand.  When you hear it you know you've heard or read about it somewhere but you can't immediately tell what it is all about.  For everyone's benefit, Cygnett makes accessories.  It is known for its smartphone and tablet cases but it also makes other accessories like speakers, bags, stands, chargers and FM transmitters.
Having made the brief introduction, I have had the chance to do a hands-on review of the Cygnett Soundwave Bluetooth Speaker with Adjustable Stand.  That's quite a mouthful but it somehow helps in describing what the product is all about.  Is it any good? Read the rest of the review to find out.
Cygnett Soundwave Speaker – Design
I've reviewed quite a few Bluetooth speakers.  Some of them I liked a lot, some not so much.  The design plays a big part of judging whether a product is good or bad, and thankfully for the Cygnett SoundWave, the design is one of its good features.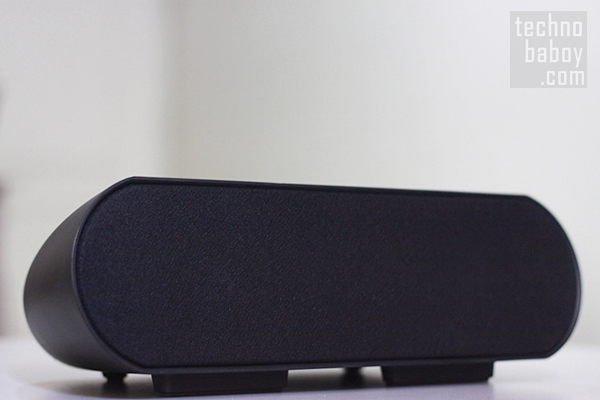 The Cygnett SoundWave is not very portable, at least not as portable as the Logitech Mini Boombox or the even the bigger Braven 600 or Braven 570.  The Cygnett SoundWave does not aim to be the most portable Bluetooth enabled speaker out there, but if you want to carry it around, you can still do so.  The Cygnett SoundWave is best used in your living room since it has a design that will surely complement whatever setup you have.  It's all black and we all know that black blends with almost anything.  The shape is also quite nice so you'll have no problem showing this speaker off to your friends.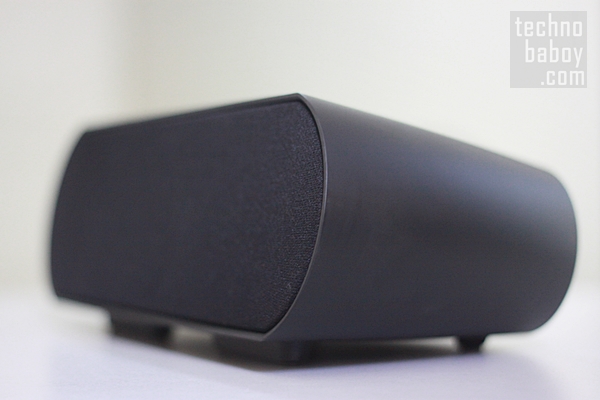 The Cygnett SoundWave only has a few control buttons.  On top of the speaker are the volume buttons and the Bluetooth button.  The power button is located at the rear part, just beside the power slot and the auxiliary in port.  That's about everything you can see in the Cygnett SoundWave as far as buttons and ports go.
Cygnett Soundwave Speaker – Features
The Cygnett Soundwave Bluetooth Speaker has quite limited features compared to other devices in the market.  But then again, it's not really about which speaker has the most number of features, it's about which one offers the best features that one is looking for in a Bluetooth speaker.  Unlike other speakers, the Cygnett SoundWave does not pick up calls nor does it charge devices like some Bluetooth speakers in the market.   What it offers, apart from the being a speaker, is an adjustable stand where you can dock your device, be it be a smartphone or a tablet.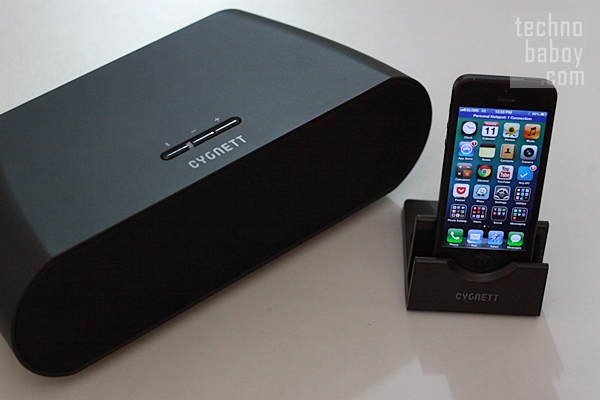 The adjustable stand can also hold your device's charging cable so you can use it even when you are charging your device while playing music. In a way, the stand is converted to a charging dock.  The dock easily adjusts to your desired fit or grip for your device.  It doesn't go too close though, so thin devices like the iPhone 5 is not gripped tightly, but I don't think that's what you want in a stand.  What you need is something you can place your device on and the Cygnett Soundwave's dock does just that.
The other feature that the Cygnett Soundwave Bluetooth speaker can offer is compatibility with devices that can be plugged in using 3.5mm cable.  You can therefore plug your gaming devices in or any other music player or device that has a 3.5mm jack.  In other words, the Cygnett Soundwave works with Bluetooth and non-Bluetooth devices.
If you want to carry the Cygnett SoundWave around, you can do so since it works with 8 AA batteries as well.
Cygnett Soundwave Speaker – Sound Performance
The Cygnett SoundWave Bluetooth speaker delivers where it counts.  Other Bluetooth speakers can claim the most number of features but most of them do not sound as good as the Cygnett SoundWave.  To most consumers, only sound matters and if you're one such consumer, you'll never be disappointed with the sound performance of the Cygnett SoundWave.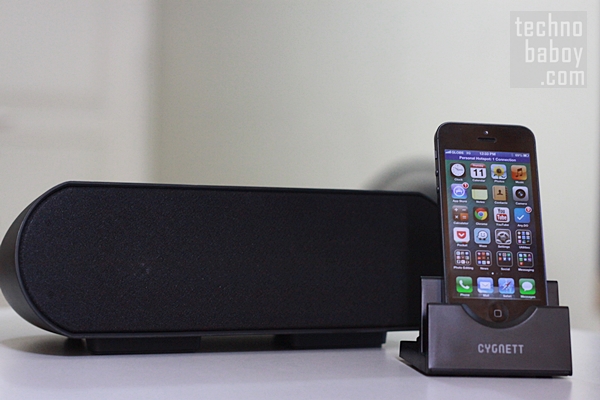 There are two things I immediately noticed   en playing tracks using the Cygnett SoundWave.  The speaker can go very loud, and the speaker can deliver booming bass.   The Cygnett SoundWave has its own volume control and when it is placed on full, and your device's volume is also on full, expect really loud audio.  This is good since the sound from the Cygnett SoundWave can easily fill your entire living room.   What's admirable about this speaker is even if the sound is on full volume, there is hardly any distortion.  Only a few Bluetooth speakers can claim this feat.  This is one of the advantages of having a bigger profile compared to other more portable speakers.
The Cygnett SoundWave has a bright and dynamic sound signature with powerful lows.  It has the ability to deliver crisp mids and highs so long as you know how to adjust your equalizer settings.  What you will like bets about the Cygnett SoundWave is really the booming bass.  It's there when you need it and the sound is just pleasant.  Pop in songs like Macklemore and Ryan Lewis' Can't Hold Us or Robin Ticke's Blurred Lines and you'll know what I'm talking about.
Wrap –Up
The Cygnett SoundWave Bletooth speaker may not be the best when it comes to the number of features offered but it's certainly one of the best when it comes to sound performance.  It delivers loud sound and has incredible bass response.  The highs and lows are crisp, although you might need to adjust your equalizer settings sometimes in order to achieve this.  Overall, the Cygnett SoundWave offers fantastic sound and to most consumers, this is the only thing that matters.  The other features of the Cygnett SoundWave like adjustable stand, 3.5mm port and portability through AA batteries are just bonus features in my opinion.
You can buy the Cygnett Bluetooth speaker from online shops.  LoveCases, for instance, has repriced this item from £90 to £34.99 (about P2,300).  Try looking for it also in local shops in the Philippines.
Rating: 8.9/10