The Moto X is one of the highly anticipated Android phones.  It has been teased extensively by Google and Motorola but until recently, we have not seen the phone in clear shots.  Eric Schmidt of Google was seen using the phone but the shots did not show the phone entirely.
Recent leaks revealed the appearance of the phone and what have been leaked in fact show the phone in both black and white colors.  The front, back and side of the phone are shown in the photos.   Black and white are not the only colors available if reports are to be believed.  Motorola designed the Moto X to be highly customizable, offering covers that use materials like plastic, metal, wood, ceramic and fabric.
Here are the photos of the Moto X in black and white.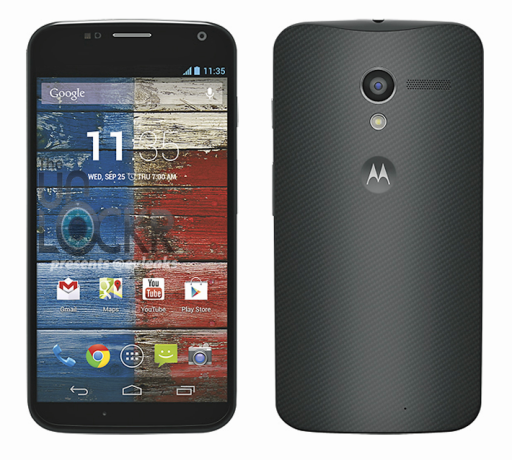 The photos show the phone's huge display and its textured back cover.   At the back of the phone we see the phone's camera, flash and speaker grille, including the Motorola logo.  The profile shot shows the phone's tapered back.  It's considerably thicker on top compared to the phone's bottom.
A previous leak shows a few features of the Moto X like a voice-activated Google Now, active updates through screen notifications and a few camera tricks.  The rumored specs of the Moto X include a dual-core 1.7GHz Snapdragon processor, 2GB of RAM, a removable Kevlar rear shell, and a 2200mAh battery. The Moto X is expected to be revealed on August 1 so we won't be waiting that long.