With PC gaming picking up in the country, ASUS released the ROG GL503VD, a relatively affordable gaming laptop designed to introduce and pull-in would-be gamers to the industry.
This is our quick review of the ASUS ROG GL503VD.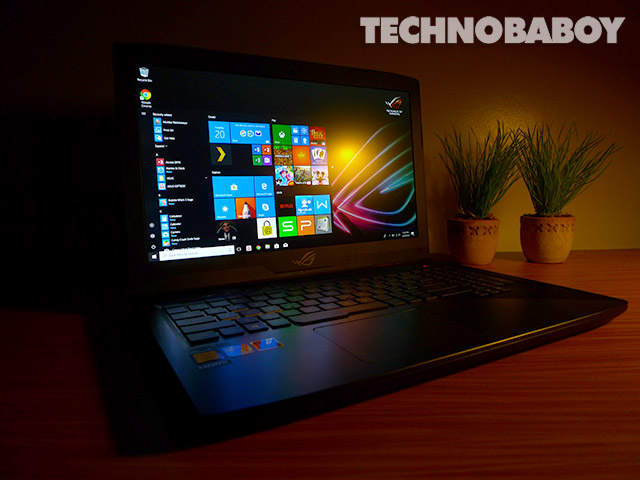 ASUS ROG GL503VD review
ASUS' Republic of Gamers (ROG) sub-brand are one of the reasons why we are seeing an uptick of interest in the PC-gaming industry. They offer a host of gaming laptops and peripherals, as well as keyboards, components, and more.
We'll be taking a look at the ASUS ROG GL503VD, an entry level gaming notebook with capable specs at half the price of high-end laptops.
ASUS ROG GL503VD Specs:
15.6-inch Full HD IPS Display (1920 x 1080)
60Hz Refresh Rate, Anti-Glare
2.8GHz Intel Core i7-7700HQ Processor
4GB GDDR5 Nvidia GeForce GTX 1050 GPU
8GB DDR4 RAM, up to 32GB
128GB M.2 SSD Primary Storage
1TB 7200rpm HDD Storage
Chiclet Keyboard, 4-zone RGB Lighting
HD Webcam
Wi-Fi ac, Dual-Band
Bluetooth 4.1
LAN connector
HDMI Port, Mini DisplayPort
Combo Headphone/Mic Jack
3x USB 3.0, 1x USB 2.0, 1x USB Type-C
SD Card Reader
Windows 10 64-bit
Dimensions: 38.4 x 26.2 x 2.0cm
Weight: 2.30 kg (5 lbs)
4-cell 64 WHr Li-Ion Battery
Design and Build
The ASUS ROG GL503VD has that beautiful and simple, yet slightly aggressive gamer look. It's not elegant by any means, but it's not ordinary either. It has an aluminum lid with a brushed metal finish. It also has that definitive, lighted ROG logo, adding to that gamer vibe.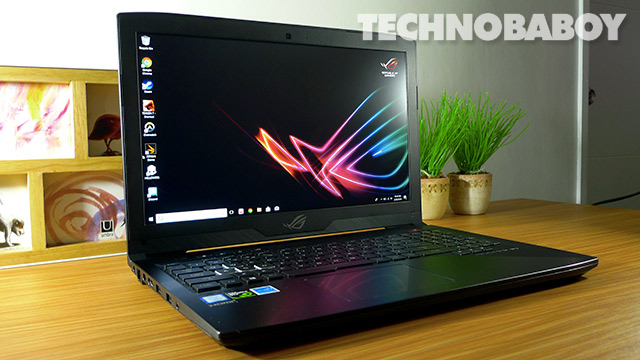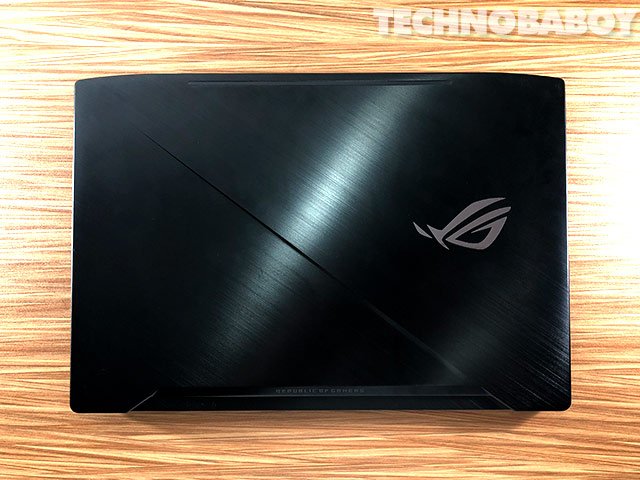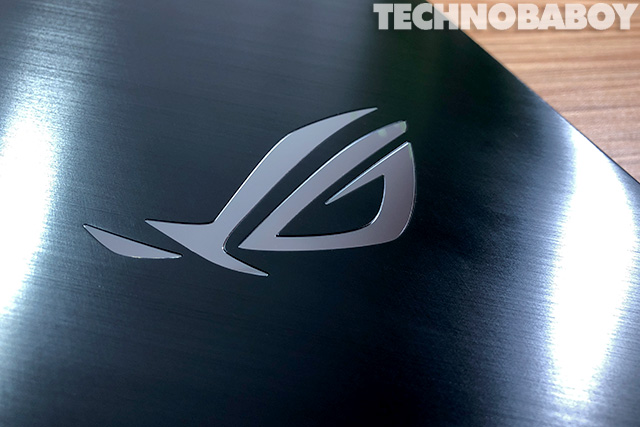 Measuring in at 38.4 cm by 26.2 cm by 2.0 cm (15.12 in. by 10.31 in. by 0.79 in.), the GL503VD is large and bulky. And at 5 lbs., it's not light. Despite being a laptop which is supposed to be mobile, the size and weight will make you think twice about carrying it around with you.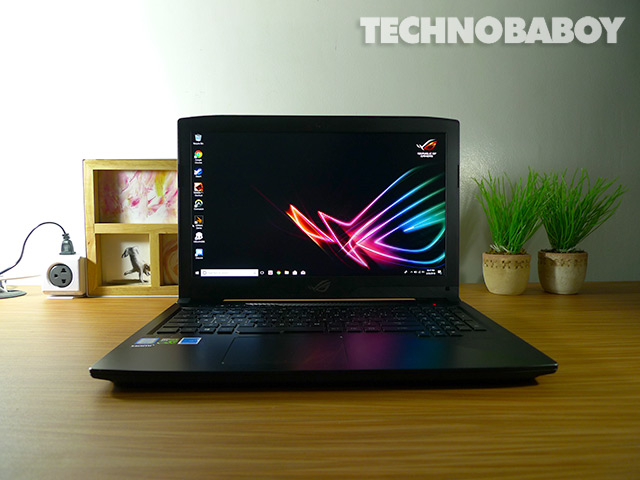 Just by looking at it and you know that it's well made. The body is sturdy, and rarely creaks and flexes. The display hinge is good as well, allowing you to lift the lid with one-hand. It also keeps the display stable with no wobbling while in use.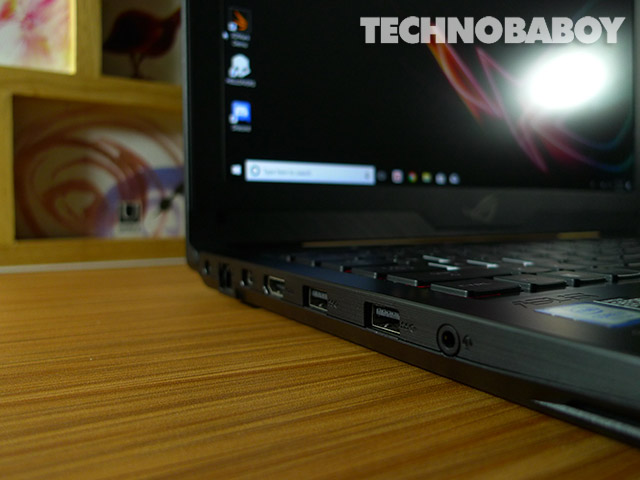 The left side houses the DC in and as series of ports — LAN, mini display, HDMI 1.4, 2x USB 3.0, and the combo headphone/mic jack.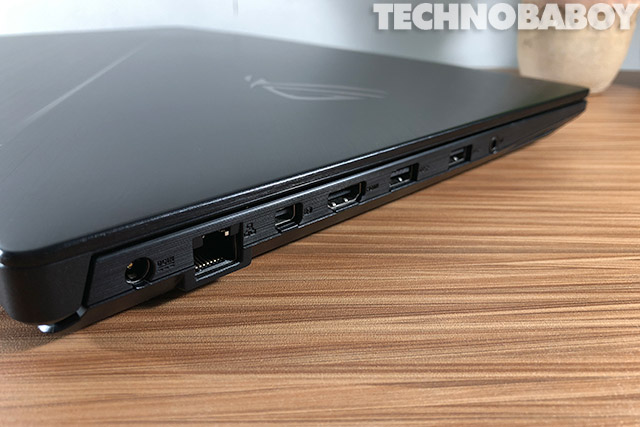 On the right is the SD card reader, a USB Type-C port, another USB 3.0, a USB 2.0, and a Kensington security slot.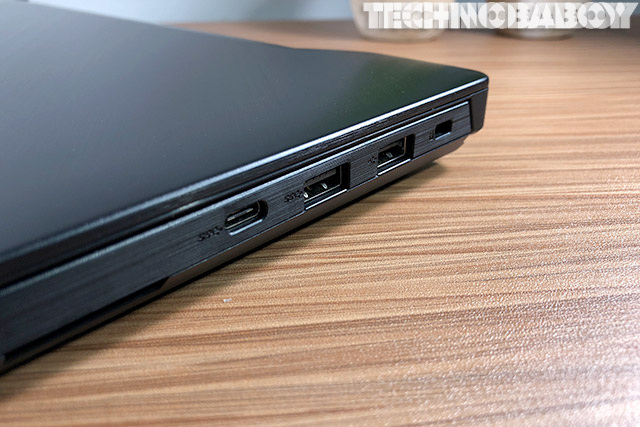 The back has the vents with red-colored grills, adding to the aesthetic of a gaming machine.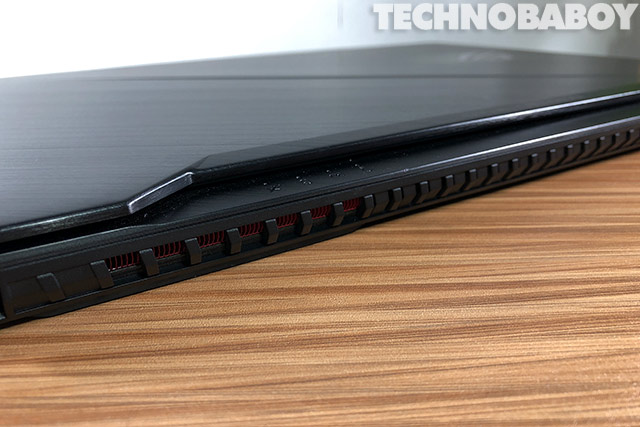 The bottom panel has an access hatch, allowing access to a RAM slot, the PCIe drive, and the 2.5-inch drive.
Display
The ASUS ROG GL503VD comes with a 15.6-inch full HD IPS display with a 1920 by 1080 resolution, and a 60Hz refresh rate, with an anti-glare coating. It is bright and vibrant, and has good color rendition and saturation. Contrast is decent as well. I like that the blacks look good.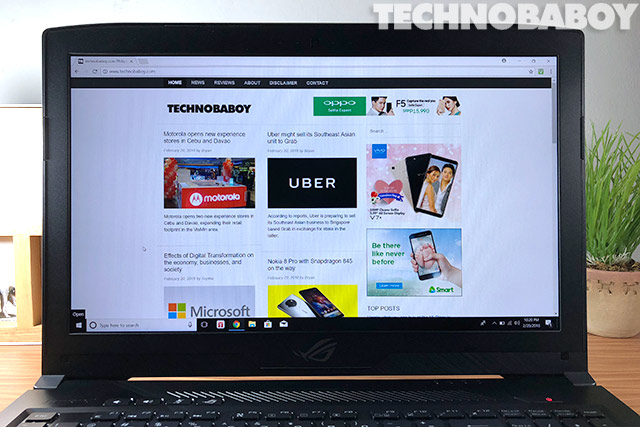 Keyboard and Touchpad
Due to its size, the laptop has a full keyboard with a numerical pad on the side. The keyboard itself is great. Typing experience is also good. It is responsive and quiet, with a spongy feel when you type. It also offers RGB lighting with 4 zones that can be set to different colors with some lighting effects.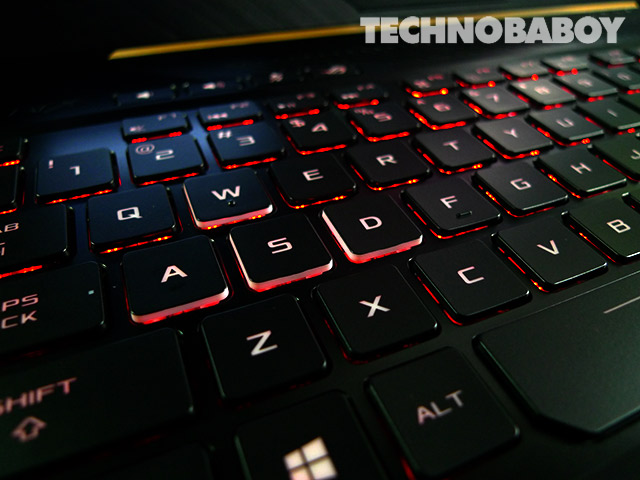 The touchpad, though, is another story. It is made from plastic. The surface is smooth, and gliding is accurate and responsive. It has ample size as well. There are no dedicated left and right click buttons, though. You generally have to press the lower half for that purpose. The touchpad mechanism, when you do press down on it, feels low-end.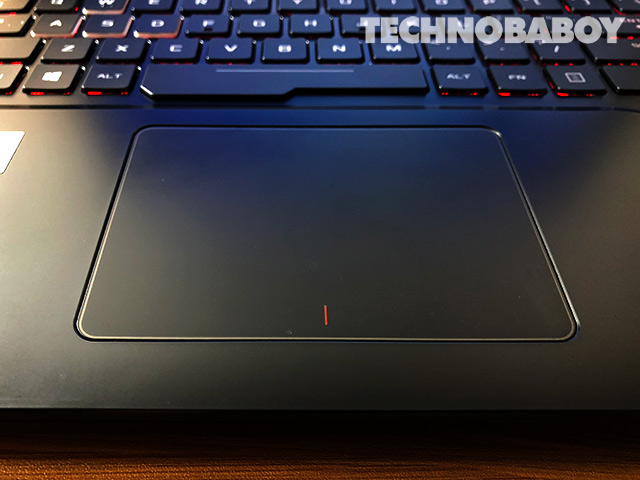 Performance
Inside, the laptop has a quad-core Intel Core i7-7700HQ processor with a base clock speed of 2.8GHz that goes up to 3.8GHz. Graphics are handled by a 4GB NVIDIA GeForce GTX 1050, with an integrated Intel HD 630 graphics card when not gaming.
It also has 8GB DDR4 2400 MHz RAM, and a 128GB M.2 SSD primary storage for the OS and additional software that you may have. While games, media, documents and other large non-essential files and programs can be stored on the 1TB 7200rpm SATA hard drive.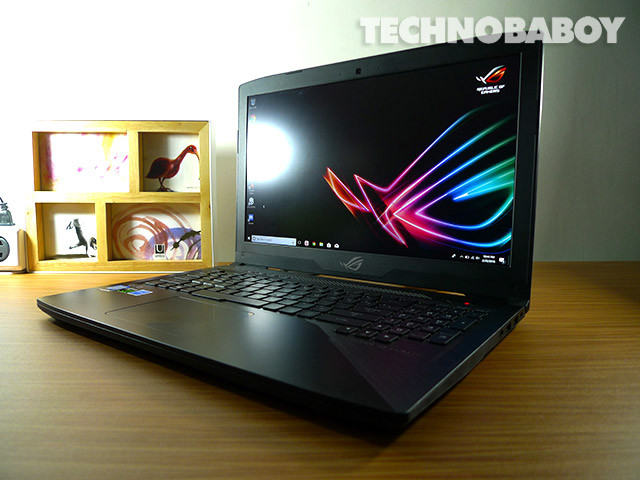 Given the specs, the system itself is fast and responsive. When it comes to playing games, it was a good experience. I tried playing various games, such as Player Unknown's BattleGrounds (PUBG), and Counter-Strike: Global Offensive. Both play smoothly and look good. In more demanding games, however, settings should be toned down a bit to get acceptable frame rates.
As for the speakers, they are loud and clear. But it lacks depth and bass, and tend to sound a bit tinny. I recommend using headphones while playing.
Battery Life
As a gaming machine, I wasn't expecting much from the ROG GL503VD in terms of battery life. The machine comes with a 4-cell 64 WHr Li-Ion battery.
Under normal use, I got almost 6 hours from a single charge. It's not bad for a laptop like this. While playing games, however, the battery lasted a bit over an hour. It might be prudent to just plug it in while playing.
Conclusion
The ASUS ROG GL503VD is a great choice for those looking for a capable gaming laptop but has a tight budget. With a retail price of PHP69,995, the machine is well-made with a great design, good display, and a nice RGB keyboard. It serves as a decent entry point to the world of PC gaming.
For more geek-centric news and reviews, please follow us on Facebook (facebook.com/TechnoBaboy), YouTube (TechnoBryan), Twitter (@technobaboy), Instagram (technobryan), and Google+ (technobryan). We'll do our best to keep you up-to-date.