Android Pie still a no show on Google's Android Distribution report for October. Oreo now on 21.5% of smartphones.
Google Android Distribution Report October
It's now October, and according to Google's latest Android Distribution report, Android Pie is yet to break the list (meaning it's on less than 0.1% of devices). Pie was announced last announced last August, so it might take time for the update to reach devices.
On the bright side, Oreo is now on 21.5% of devices. That's a few percentage points from September's 19.2%.
Nougat is still on most Android phones with 28.2%. Marshmallow sits on third with 21.3%, finally edged by Oreo. Lollipop still has a sizeable chunk albeit shrinking at 17.9%.
At least Jelly Bean, Ice Cream Sandwich, and Gingerbread are on its way out with 3%, 0.3%, and 0.2%, respectively.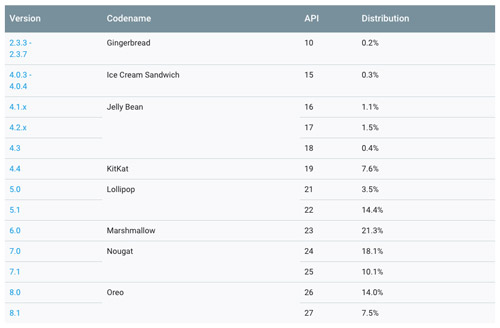 Again, manufacturers really need to hasten the release of the Android P update. At least the needle is moving towards the newer versions and Oreo is on more devices.
The data was collected from devices that visited the Google Play Store over a 7-day period ending on October 26, 2018.
[Source]