The realme TV is the brand's first Android TV. realme recently launched the AIoT device in the country, featuring a full HD LED panel with their Chroma Boost Picture Engine, Android TV OS and a pair of 24-watt quad stereo speakers with Dolby Audio.
It comes in two sizes. The 43-inch model with a FHD display has a price of Php 18,990, while the 32-inch model with an HD display has a lighter price tag of Php 11,990.
In this review, the focus is on the 43-inch model. And we're here to find out how well performs in real life.
Lets go.
Quick Setup
Setting up the realme TV is quick and easy.
First, slip in the stands and screw each tight. Each stand has a mark to indicate if its right or left and should correspond to the pegs which also have markings.
Once plugged in, you can use the remote controller to turn it on. It may ask you to connect it to the TV via Bluetooth. Just follow the on-screen instructions and you'll be fine.
Next step is setting up Android TV itself. Its pretty straightforward. Also, I recommend that you use a smartphone, but you can also use the included remote controller.
ALSO READ: Price cut: Gaming phone realme 7 now only Php 11,990
After choosing the language and turning on location services, choose Continue when it asks to Quickly set up your TV with your Android phone. It will take you to the Quick Setup page with a code.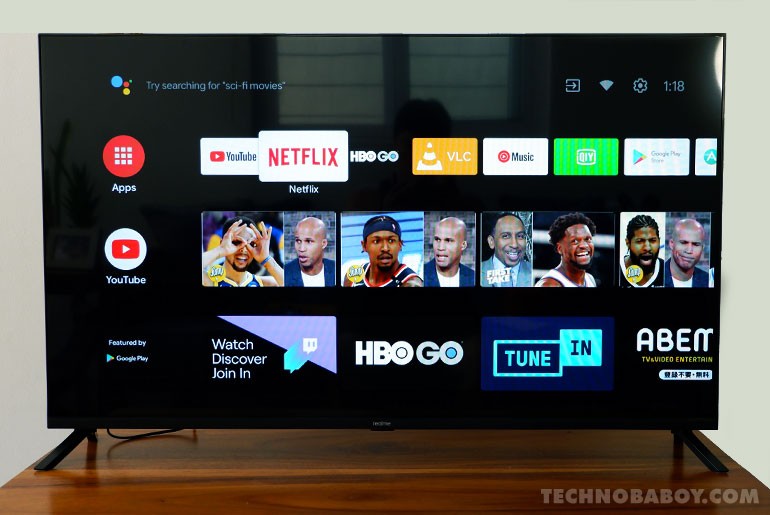 Open the Google search app on your Android phone and say (or type) "OK Google, setup my device." The setup process will start and it will look for the TV. Verify if the codes match. Alternatively, you can also enter the code on the Android TV Setup page.
Choose Next. Connect the realme TV to your WiFi network and choose the Google account you want to associate to the TV.
Once that's done, choose to name the device. Make sure to have the built-in Chromecast set to always available. Choose at tuner mode. And that's it.
Design and Features
The realme TV looks like a modern TV set with a sleek and clean layout. Despite the 43-inch display, it appears smaller and more manageable, thanks to its bezel-less design.
The plastic stands are stable and offer good support, but the TV itself wobbles a bit. Its normal for tall sets like this and it's not a big deal, just something to keep in mind.
At the back, you have the mounting holes. It doesn't come with its own wall bracket, but since it has a standard size, you can easily get one online or in stores.
ALSO READ: Samsung TU8000 Crystal UHD 4K Smart TV (2020) 55-inch review
The realme TV comes with a good selection of ports. On the right there's HDMI 1, the antenna connector, a digital audio out, an AV port, a USB 2.0, and a 3.5mm audio jack. The rest of the ports are at the bottom side which includes a USB 2.0, HDMI 2 and 3, and a LAN port.
There's are no controls on the TV itself, save for the power button underneath the realme logo. You have to use the included remote control to operate it. You can also use an Android smartphone or an iPhone as a remote by installing the Android TV app.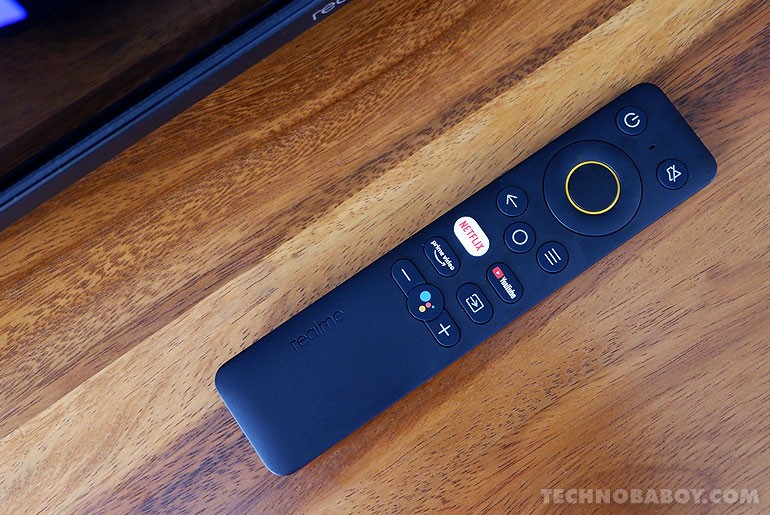 The 24-watt quad speakers are located at the bottom, just above the stands. They are downward firing.
The realme TV is a certified Android TV, powered by a 64-bit quad-core MediaTek CPU with a Mali-470 MP3 GPU, 1GB RAM, and 8GB storage. It has a Google Assistant that allows you to issue voice commands using the remote, and a built-in Chromecast that lets you stream YouTube, Netflix, HBO GO, and more.
Android TV OS itself is good enough. Its a good interface with a lot of features, including the ability to install apps from the Google Play Store, allowing users to expand its capabilities. Still, its not as fast or as intuitive as other TV OS from brands like Samsung and LG.
ALSO READ: AOC 24G2E 23.8-inch IPS gaming monitor quick review
The TV comes pre-installed with popular streaming apps like Netflix, YouTube, and Prime Video. As mentioned, you can install more from the Google Play Store, which offer over 5,000 apps and games. I added HBO GO, Spotify and iQIYI.
And yes, you can play Android games on the realme TV. Not all games are supported and you'll need a gamepad to play the interesting ones. Casual games run fine without issues. Those with heavy graphics may have issues so thread lightly.
Display and Sound
The 43-inch realme TV has a full HD LED panel with Chroma Boost Picture Engine. The display is bright with crisp details and punchy colors. It really does bring out a great movie experience. You can change the color quality in the settings to suit your taste.
The 24-watt quad speakers are composed of two tweeter-and-dynamic-speaker combo. They provide decent sound which can get really loud. It has a good amount of bass with decent treble.
In some videos, though, the treble gets too high, resulting in a piercing sound. Good thing this can be rectified by diving into the settings menu and adjusting the equalizer.
If you need to adjust the equalizer settings, you can do this by going to Settings (Cog icon)> Device Preferences> Sound> Equalizer Detail. If the option is grayed out and not accessible, you have to turn off Dolby Audio Processing first. Go to Settings> Device Preferences> Sound> Dolby Audio Processing.
I also suggest that you play around and test the sound settings. What's piercing to me maybe good for others. Adjust to your own liking.
Verdict
The sound is pretty decent and can get really loud. There are some drawbacks in audio with the piercing highs, but it can be easily adjusted by tinkering with the equalizer settings.
For the Php 18,990, the realme TV should be on your short list if you're in the market for a 43-inch Android TV.
Price & Availability
The realme TV is available in the Philippines in select realme stores and online on Lazada and Shopee. It comes in two sizes. Check out the prices below: