The Rapoo MT705S multi-mode wireless mouse offers a comfortable design with a host of features aimed at boosting productivity.
Among its features, you get a long battery life, an array of buttons, two kinds of wireless connection options, and a high-resolution sensor with a maximum 3200 DPI. Priced at Php 1,950, it offer great value for what it can do.
In this review, we're going to find out why its worth your money. Let's go.
Price
The Rapoo MT750S has an SRP of Php 1,950. It is available in stores nationwide. You can find it at lower prices online.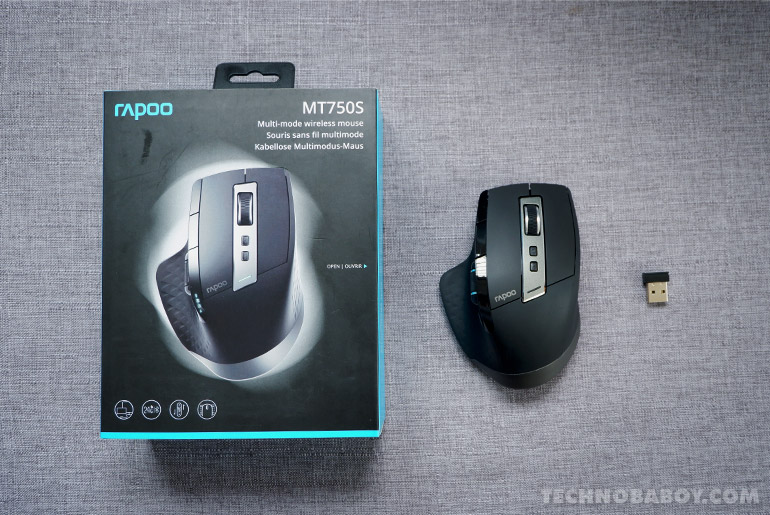 Design and Features
Looking at its design, the Rapoo MT750S is a good looking mouse with a solid build. Its aesthetically pleasing, inspired by the Logitech MX Master 3, one of the best and well-loved mice.
The device has polycarbonate body that made it light and easy to move around. Its coated in a rubbery matte finish that feels soft and smooth. The mouse has triangle shaped ridges on each side, making it easier to grip.
The finish scratches easily, so do take care when using it if that bothers you. Besides, it doesn't take anything away from using it and the overall build is pretty robust.
Apart from the usual left and right click buttons, the MT750S has four other buttons and two scroll wheels, each with its own function.
ALSO READ: Vertux gaming accessories enter the Philippine market
It has a scroll wheel at the top with rubber ridges, the Smart Switch button, and the DPI adjuster. There's also an LED light that changes color depending on the status of the mouse.
Beside the left click button are the back and forward page buttons. There's a side-scrolling wheel on the left side and a nice comfy thumb rest. Both scroll wheels are tactile and quite easy to reach.
Thanks to its ergonomic shape, the mouse is comfortable to use and fits well in the hand. The left and right mouse buttons are larger than most and offer a nice, soft, and satisfying click when pressed.
ALSO READ: Here's a list of Logitech G gaming accessories for your loved ones this holiday season
Underneath the device, you have the high-performing sensor, the power button, and glossy pads that makes gliding the mouse on most surfaces easy. There's a micro USB port at the front for charging.
There are two ways to connect the MT750S — you can opt to use the 2.4Ghz USB receiver or via Bluetooth. This allows you to pair the mouse to up to four devices in total — three via Bluetooth, and your laptop via the receiver.
To connect via Bluetooth, just press Smart Switch button near the top scroll wheel. You will see a number blink to the left of the Rapoo logo. You can choose either 1, 2 or 3. Then depending on what device you are using, just follow the normal Bluetooth connection process.
To toggle the DPI, just press the second square button near the scroll wheel. It will cycle between 600 (for more precision) up to a speedy 1600, depending on what you need.
Performance
The MT750S is a very solid mouse. Its plenty accurate for most uses and the added buttons offer far more convenience that what you would normally have with a regular mouse. The high-performing sensor won't work on glass, but its good enough for most surfaces.
The side scroll wheel is a welcome addition, as I see it benefitting those working on large and wide spreadsheets. And the back and forward buttons will allow you to quickly go back and forth between pages.
Switching between devices is fast as well. It quickly connected to another device when I clicked on the Smart Switch button.
Rapoo lists battery life at 30 days. And to be honest, its very much achievable especially if you're using the receiver. After using it for almost four weeks, I stopped counting and decided to charge the mouse as I didn't want to be interrupted while using it.
Verdict
The Rapoo MT750S is a great mouse for almost all occasions. Its very ergonomic and handy to use, thanks to its laundry list of buttons that offer a variety of useful functions.
The mouse has an SRP of Php 1,950. But you can get it cheaper by buying it in online stores.