Sony has always been the gold standard in ANC headphones. Their latest flagship truly wireless earbuds, the WF-1000XM4, are no different. It towers over its peers in the high-end segment with class-leading noise cancellation, excellent battery life, and great sound quality.
Despite the technical-sounding name, the WF-1000XM4 has a handful of useful features. To their credit, Sony has built upon what made the previous model great, adding meaningful changes to further improve the flagship series.
Like many of our reviews, we once again ask the question — is it worth the asking price of Php 13,999? We have a pair we just finished reviewing, and we're here to explore why the answer to that is a resounding yes. Let's dive in.
Sustainable Packaging
To start the review, it's worth mentioning that the WF-1000XM4's packaging is entirely sustainable. Sony used sustainable materials and removed any plastic from the earbud's packaging. The box, the cardboard cutouts, the documentation, and more are all made from a material developed in-house called Original Blended Material.
Original Blended Material uses a combination of bamboo, sugarcane fiber, and recycled paper to create a lightweight, strong, and durable material that can be used for different purposes. In this case, it was used throughout the WF-1000XM4's packaging.
Inside the box, the WF-1000XM4 comes with foam ear tips (called noise isolation ear tips) in three sizes — S, M, and L, and a short USB-C cable.
Design and Comfort
The WF-1000XM4 was a complete redesign from its predecessor. Unlike the bulky WF-1000XM3 which is marked by a large pill shape, these new ones are round and more compact. Mind you, the earbuds are not as small as other TWS in the market by any means as they still stick out of your ears, but it is less noticeable and more discreet than the previous model.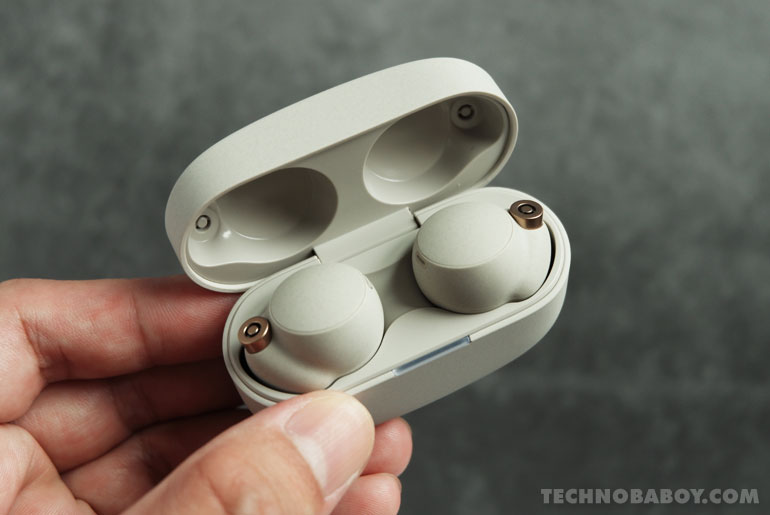 The build is pretty good, made from high-quality plastic. It has an IPX4 certification to protect from splashes and sweat, and a textured finish that resists fingerprints and other marks. Despite the beige color, our review unit's colorway is actually called silver. It is also available in black.
The earphones come with a round touch panel for quick controls. They are very responsive and each touch comes with audio and voice cues so you know what's going on. Tapping on the left earbud toggles between ANC and ambient sound modes, while the right handles music and phone controls. These can be customized on Sony's Headphones Connect app, which I recommend you use.
ALSO READ: Sony WF-1000XM4 TWS is now available in the Philippines
The charging case is also small and compact with rounded edges with the same color and finish as the earbuds themselves. It easily fits most pockets. It sits upright with a flip cover at the top, an LED status light in front, and a USB-C for charging at the back.
Comfort
The WF-1000XM4 comes with foam ear tips. It's soft and spongy, offering a tighter fit compared to conventional silicon ear tips. It does a good job of creating a tight seal that ups the noise-canceling properties of the earbuds. You can also use the fit test feature in the app to determine the best ear tip size to use.
The earbuds are, for the most part, comfortable to wear. After long listening hours though, I did find the need to rest my ears. The medium foam ear tips were too snug for my taste which slightly irritates my ear canals. It's not painful, but it does become bothersome after a while. I also tried the small ones, but I was not satisfied with the seal it provided. To remedy this, I opted to replace the foam tips with the RHA Dual Density ear tips that came with my RHA T10's.
Sony Headphones Connect App
To maximize your WF-1000XM4, I recommend that you download and install the Sony Headphones Connect app. Here, you can update firmware, customize controls, use the fit test, adjust the intensity of ambient sound mode, see the battery levels of the earbuds, adjust the equalizer, and more.
One feature I found interesting is Adaptive Sound Control. When active, the app will try to detect the actions and locations you frequent, and adjust the sound settings based on what you're doing. For instance, if you're out jogging the earbuds will switch to ambient sound so you can hear what's going on around you.
Another interesting feature you can enable through the app is Speak-to-Chat. It is turned on by default. When this is active, the earbuds use the mics to detect if you are speaking and temporarily pause any music you are playing, and switch to ambient sound. Although useful, I have this turned off because I talk too much and it keeps interrupting my audio.
Audio Performance and ANC
Sound Quality
The WF-1000XM4 is equipped with 6mm neodymium drivers and supports SBC, AA, and LDAC codecs. It supports DSEE Extreme as well, which works to upscale compressed digital music files in real-time. The earphones also connect via Bluetooth 5.2.
As for sound quality, they are great. The sound signature is well balanced with good highs, mids, and lows. There's a good amount of bass on bassy tracks, without it feeling lacking or overpowering. Acoustic music, on the other hand, sounds natural with lush mids. While highs are not piercing with good clarity.
I also enjoyed using the earbuds while watching movies and streaming videos. I didn't notice any lag.
The truly wireless earphones also support 360 Reality Audio, Sony's immersive audio format. At the moment, availability is scarce. I did give it a try on Deezer, and it did sound good.
Active Noise Cancellation (ANC)
The WF-1000XM4 is equipped with Sony's V1 Integrated Processor, which offers similar ANC performance to the previous model while being more efficient in terms of battery consumption. It also has improved dual noise sensors that catch more ambient sounds in the surroundings and effectively counter noise across a wide range of frequencies. With all that, the earbuds offer excellent noise cancellation.
The truly wireless earbuds easily block out repetitive sounds like the rumbling of air conditioners, electric fans, wind, car engines, and other background noises. And while most ANC's can't entirely block out loud voices, these do a good job of quieting it down at least.
Call Quality
Call quality is good on the WF-1000XM4. You can clearly hear the person you are talking to and it's the same on the other end. The earbuds also do a good job of not picking up other sounds while on a call.
Battery Life
The WF-1000XM4 comes with exceptional battery life. According to Sony, the earbuds offer up to 8 hours of use with the case adding two more charges for a total of 24 hours. During testing, I found this to be mostly true with the buds lasting for 7 hours and 30 minutes. This is with constant switching between ANC and ambient sound, speak-to-chat turned on, and DSEE Extreme set to auto.
ALSO READ: Sony announces WF-C500 TWS for PH market
Charging the earbuds takes 1.5 hours, while the case takes around 3 hours via USB-C. The charging case also supports wireless charging. With a 10W wireless charging pad, it took a little over 2 hours to top up to full from zero.
Final Thoughts
Sony has led the high-end market for ANC truly wireless earbuds in the past years and they will continue to do so with the new WF-1000XM4. The earbuds are the best available in the market right now, truly providing almost everything you need with their impressive set of features.
Its active noise cancellation is super effective in blocking out ambient noise. Battery life is indeed class-leading, even with ANC active. Moreover, its design is also noteworthy to talk about.
In addition to all that, the WF-1000XM4 has amazing sound quality. And if we're going to nitpick for weaknesses, it's probably the mic that isn't bad at all, but something they can improve in the future.
So, to answer the question at the start of this post — yes, these are well worth the money. So if you're ready to spend some cash for the best flagship ANC truly wireless earbuds, there really is no other option than the WF-1000XM4.
Price and Availability
The Sony WF-1000XM4 is priced at Php 13,999. It is available in all Sony Centers and Sony Authorized Dealers nationwide. You can go here to locate stores nearest you or you can also check them out on the official Sony stores in Shopee and Lazada.