Rapoo recently released a new V500 Pro mechanical gaming keyboard in the Philippines. This latest one comes in a purple colorway with white backlighting.
The keyboard is priced at Php 1,995, available at any Silicon Valley Store nationwide along with other Rapoo accessories.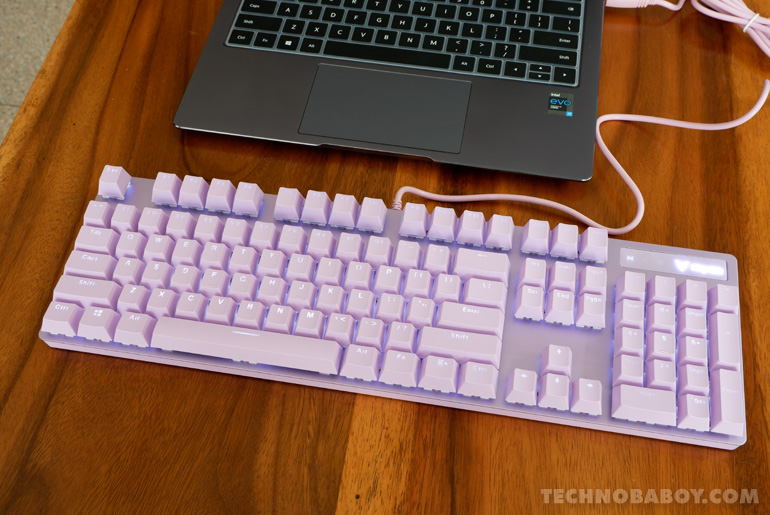 Hands-on Review
The V500 Pro is a full-sized Windows keyboard with 104 keys, including the function keys and a dedicated number pad. It has a 1.2m non-removable cable with a USB-A 3.0 plug at the end. Despite the Windows key, it is also compatible with Mac OS.
The keyboard has a plastic build with an aluminum alloy surface cover. There is a slight bit of flex when you twist it, but it is very sturdy. It also has some weight to it at 805 g.
The V500 Pro has a spill-resistant design with four drain holes underneath to discharge liquids. There are five rubber pads to keep it in place. It also has foldable keyboard legs should you want to type on a higher angle.
The keyboard comes with blue Rapoo mechanical switches, which are rated up to 60 million operations, making it one of the most durable keyboards around. These appear to be soldered in place (not hot-swappable) with white LED backlighting.
As for the keycaps, they are double-shot PBT. I prefer these because they are generally resistant to wear. The legends don't look as sharp, but they are legible and easy to read. You can change the keycaps, should you like, with any Cherry MX compatible keycaps with an OEM profile.
Performance
The V500 Pro is plug-and-play. It lights up as soon as you plug it in. For those looking for an RGB experience, this isn't it. Again, the LED light only comes in white.
Regardless, the LED lights are bright and shine through the legends, but leak at the bottom of the keycaps. It does what it's supposed to do, allowing you to see the keyboard in the dark.
You can change to different lighting modes using the following function key combinations.
Fn+PrtSc = Constant, Breathing, Wave, Overlay, Failing
Fn+ScrLk = Logo light control
Fn+Esc = Turn LED light on/off; Long press for 3 seconds to restore factory settings
The keyboard also comes with various Fn shortcuts.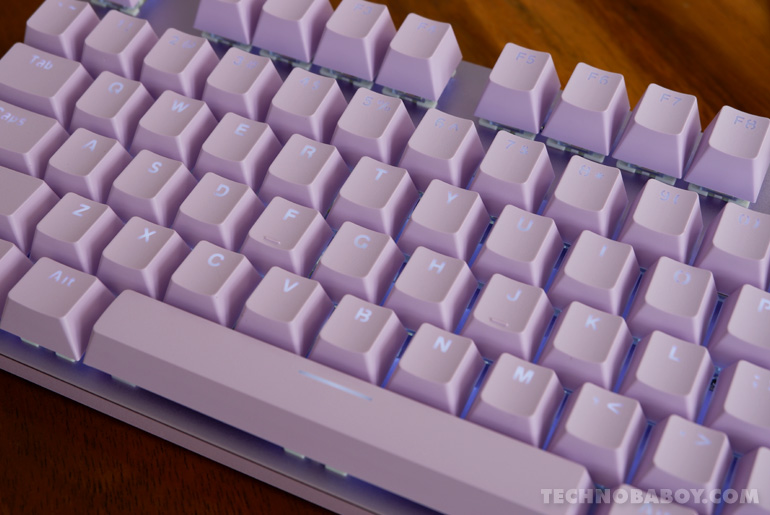 As for the typing experience, it is actually quite pleasant. The keyboard is responsive with a nice tactile feel. It is clicky, though, and loud thanks to the blue switches. So keep that in mind should you decide to bring it to work.
Also Read: Huawei MateBook 14s Laptop+ vs MacBook Pro 13-inch M1; How do they differ?
But the 4mm travel is quite nice and the switch is easy to press, not requiring much pressure, making it ideal for long typing and gaming sessions.
Final Thoughts
All in all, the Rapoo V500 Pro is a decent option should you want to get a mechanical keyboard. Be it for writing or gaming, it delivers a solid performance for Php 1,995. It is comfortable to use, responsive, and tactile, with a soft touch.
Keep in mind that these come with blue switches, which are clicky and noisy, making this ideal for home use and not the office.