The HUAWEI Mate 50 Pro is soon heading for the Philippine market. The smartphone features a premium design and top-of-the-line specs, including a 120Hz OLED display and the Qualcomm Snapdragon 8+ Gen 1 4G chip. But its most impressive features by far are the Ultra Aperture XMAGE Camera and the all-powerful Kunlun Glass protection.
We spent some time with the HUAWEI Mate 50 Pro for a quick hands-on, and we're here to share our impressions, which include some nut-cracking moves using the phone. Let's get to it.
HUAWEI Mate 50 Pro Specs
| | |
| --- | --- |
| Display | 6.74-inch FHD+ OLED Display, 2616×1212, 120Hz Refresh Rate, 300Hz Touch Sampling Rate, 1440Hz High Frequency PWM Dimming |
| Processor | Qualcomm Snapdragon 8+ Gen 1 4G |
| RAM/Storage | 8GB+256GB / 8GB+512GB (Orange Variant) |
| Rear Camera | 50MP Ultra Aperture XMAGE Camera + 13MP Ultra-wide + 64MP Telephoto, OIS |
| Front Camera | 13MP + 3D TOF Depth Sensing |
| Network | 4G LTE, Dual SIM |
| Connectivity | Wi-Fi 6 Dual Band, Bluetooth 5.2, GPS, NFC |
| Others | In-display Fingerprint Sensor, 3D Face Recognition, USB-C, Stereo Speakers, IP68 Dust and Water Resistance |
| OS | EMUI 13, AppGallery |
| Battery | 4700mAh Battery, 66W Wired Fast Charging, 50W Wireless Fast Charging |
First Impressions
We only had a short time with the HUAWEI Mate 50 Pro (less than half a day actually), but it was enough to leave a positive impression on us.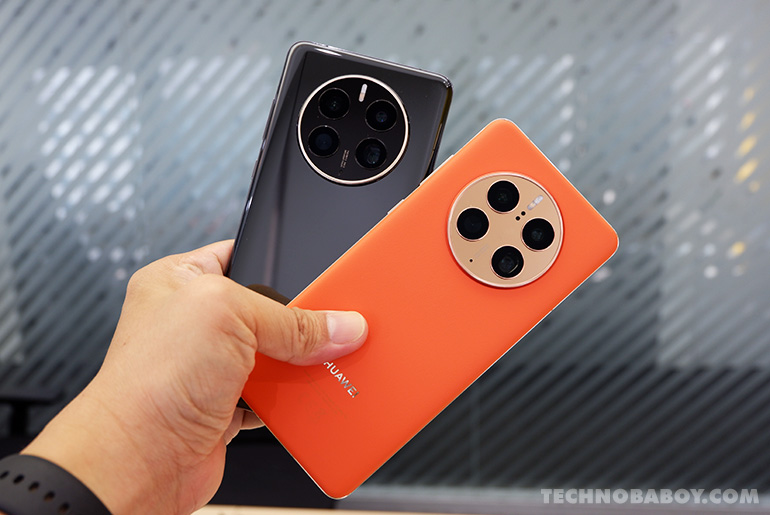 Starting with the design, the Mate 50 Pro looked elegant and premium. It has a stylish and slim metal frame with a thickness of just 8.5 mm and an IP68 Dust and Water Resistant build. It felt good in the hand, and quite ergonomic and easy to grip, thanks to its sleek body.
The smartphone comes in two colorways — Black and Orange. The Black variant has a more classic look with the shiny back, but it's quite the fingerprint magnet. The Orange one is the more premium variant with a vegan leather back and it's the only one with Kunlun Glass (which we'll get to later).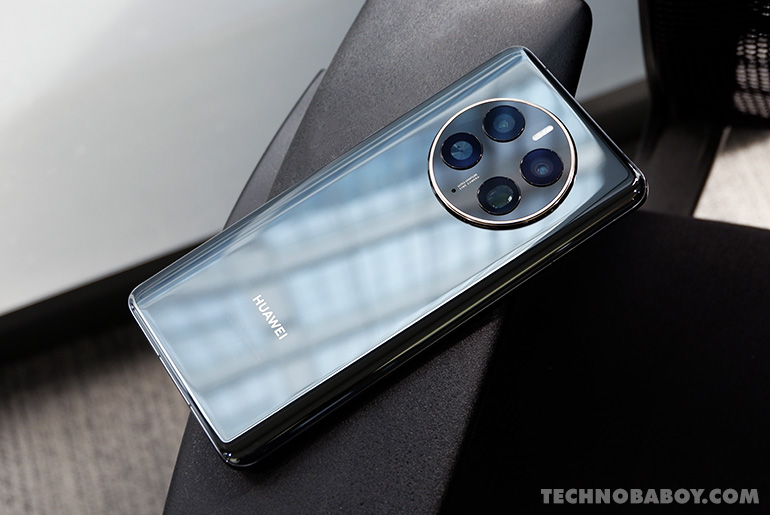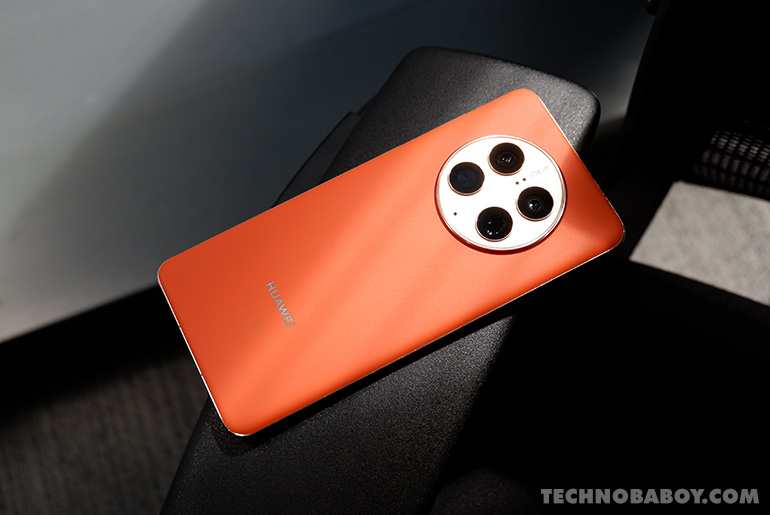 At the front, the Mate 50 Pro boasts an expansive 6.74-inch FHD+ OLED display. It is bright with deep blacks, pleasant colors, and good contrast. It supports up to 120Hz refresh rate, making scrolling and navigation a satisfyingly smooth experience.
The bezels surrounding the screen are narrow and even on all sides. There's a rather large notch, which houses the 13MP selfie camera and its supporting 3D TOF Depth Sensing sensor.
At the back, a circular camera island immediately grabs attention, housing the triple camera setup of a 50MP primary, a 13MP ultra-wide, and a 64MP telephoto sensor. Huawei incorporated decorative metal rings around each lens to reproduce a Clous de Paris pattern, a form of handcrafted embossing process that originated in France and is often found on luxury watches, jewelry, and other accessories.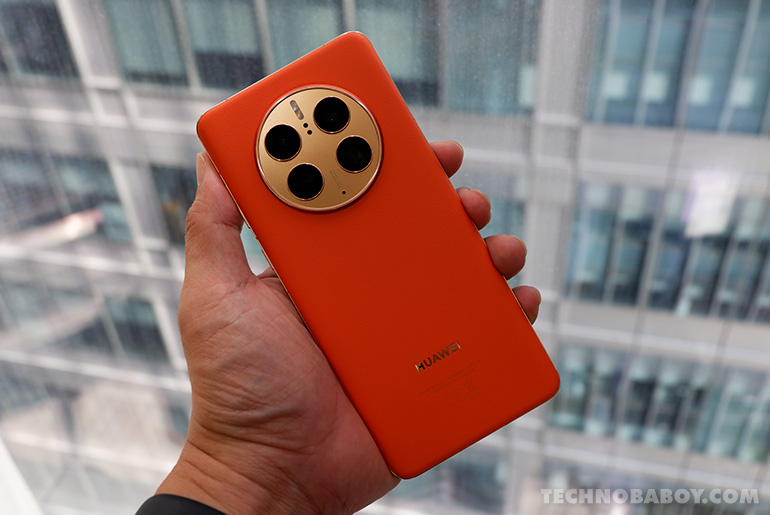 As for the performance, it's good. The Mate 50 Pro comes with a Qualcomm Snapdragon 8+ Gen 1 4G chip with 8GB of RAM and up to 512GB of storage. It's one of the most powerful Android chips in the market right now so there are no surprises here.
We weren't able to test for battery life and fast charging, given the time constraint. But the 4700mAh battery should last a day. Meanwhile, the 66W wired and 50W wireless fast charging are likely enough from to keep you from staying plugged in for too long.
Photo Samples
During our hands-on, we were given the opportunity to take the Mate 50 Pro for a quick spin around the BGC area (Bonifacio Global City, Taguig) with supervision from Huawei PH's PR team, of course.
Interestingly, one of the many highlights of the Mate 50 Pro's cutting-edge Ultra Aperture XMAGE Camera system is the physical aperture blades, which you can see open and close when you adjust the aperture on the camera app while in Pro mode.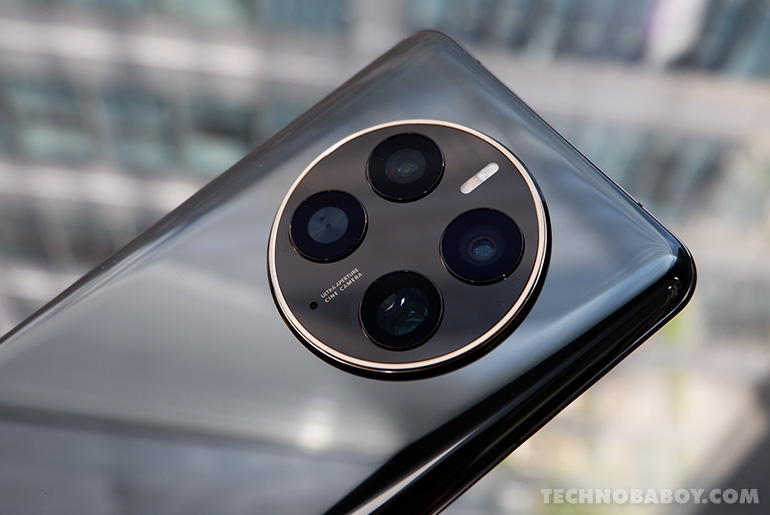 As a result of the physical aperture, you get a more natural fall-off between a subject and background and a smoother bokeh.
As for the image quality, it's quite impressive in good lighting, even indoors. The colors are punchy with accurate exposure and a good amount of dynamic range. Photos also look sharp as well with ample detail.
See also HUAWEI MatePad Pro 11 review: Productivity on the go
The image quality while in zoom and ultra-wide is also good, as you can see in the sample photos below. Unfortunately, we weren't able to test its camera for low light and night performance.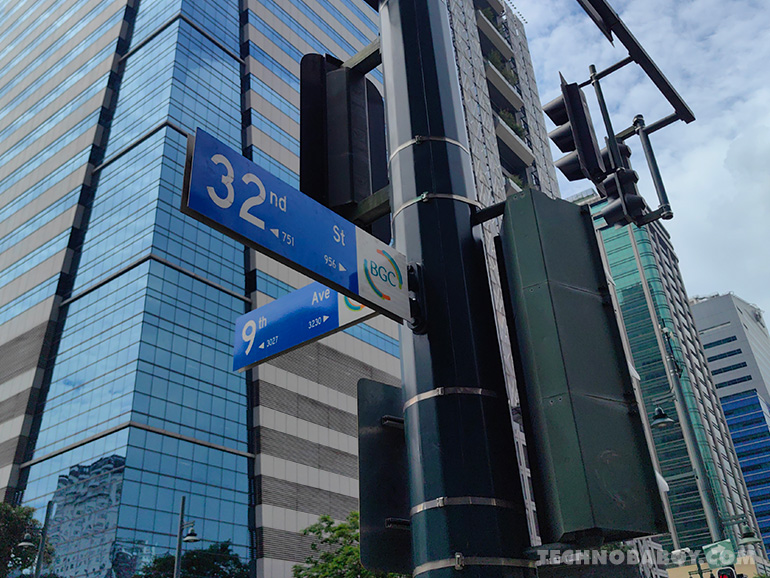 Ultra-wide
Zoom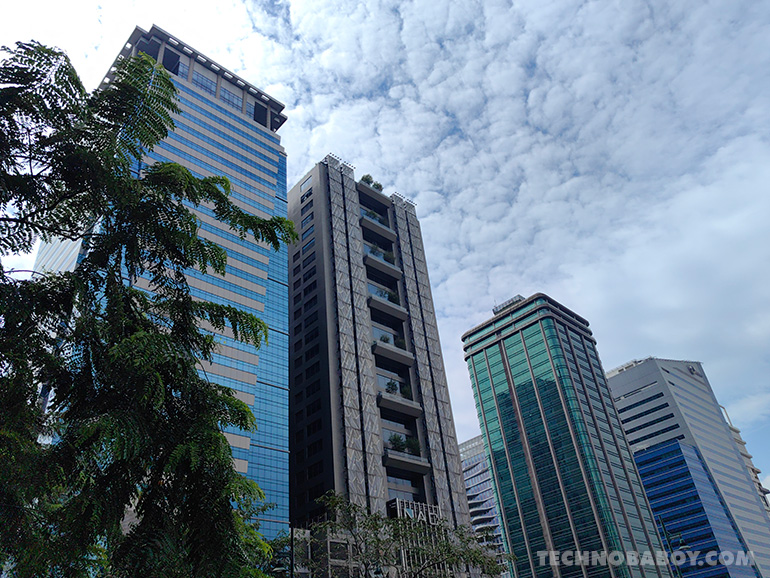 What is Kunlun Glass?
Huawei's Kunlun Glass is a super durable glass that protects the display from more damage.
Huawei briefly explained the process of how it is made. Kunlun Glass has a coating that consists of 10 quadrillion-level nanocrystals that were made by composite ion strengthening via a 24-hour nanocrystal growth process at high temperatures, a 108-step micro-crystalline matrix material and panel processing techniques, and 1600℃ platinum smelting technology.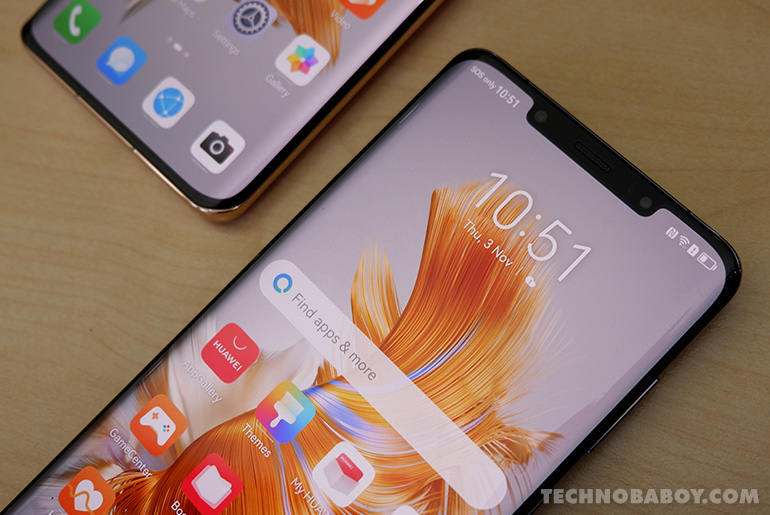 The HUAWEI Mate 50 Pro is the first smartphone to get the five-star glass drop resistance certification from Switzerland's SGS.
See also HONOR Magic4 Pro review: Huawei DNA, powerful cameras, and more
At the moment, it's available on the HUAWEI Mate 50 Pro Orange variant. It is coming to other Huawei devices soon.
How strong is Kunlun Glass?
Kunlun Glass is strong enough to withstand drops of up to 10 times the usual resistance from comparable glass.
This allowed the HUAWEI Mate 50 Pro to survive drops from considerable heights. In fact, during other demonstrations, HUAWEI executives were keen to show them off by tossing them on the floor from a height of over 5 feet.
During our short time with the smartphone, we were given the opportunity to test its durability. Admittedly, I was hesitant to try it at first. But after some convincing from the Huawei people, I decided to give it a go… by slamming the phone on a table, display side down, onto a pistachio nut, enough to crush it. I did it not once, but three times and every time the Mate 50 Pro came out unscathed. Of course, they were keen to remind us that Kunlun Glass is only available on the Orange variant of the Mate 50 Pro, in case we got overzealous during testing.
To my surprise, the display not only survived, but it was free from cracks and scratches. Upon closer inspection, though, I noticed that the plastic screen protector (that was on top of the glass) was damaged, but the screen itself didn't shatter at all.
Remarks
Well, that's about it for our hands-on review of the HUAWEI Mate 50 Pro. It is an impressive piece of hardware with an eye-catching design, and a list of premium features that includes a 120Hz OLED display, a powerful Qualcomm Snapdragon 8+ Gen 1 4G, and a 4700mAh battery with 66W wired and 50W wireless fast charging.
The phone isn't perfect, though with its own shortcomings. There's no 5G connectivity here. But do remember that 4G speeds are more than enough for most use cases on a smartphone.
Moreover, the Mate 50 Pro runs on EMUI 13 with no Google apps or Playstore (which I understand you should all be aware of by now). Whether or not this matter is entirely up to you. But do know that Huawei's AppGallery has most of the popular apps and games that you need. And if you must, there are other ways to get Google apps on the phone, such as through GBox and Gspace.
And the most impressive feature so far? Apart from the outstanding image quality of the Ultra Aperture XMAGE Camera system, it's Kunlun Glass. It's something we've never seen before on a smartphone straight out of the box. Sure, it's not meant to crack nuts but knowing the Mate 50 Pro can survive drops from higher heights and resist cracks and scratches (without a case) is definitely worth considering.