A good tablet can bridge the gap between mobile devices and full-fledged laptops. Tablets are portable, easy to carry, and offer more functionality, thanks to a larger display. But not all tablets are created equal.
Enter the HUAWEI MatePad Pro 11. It's Huawei's latest flagship tablet, which features top-of-the-line specs including a 120Hz WQXGA OLED display, a Snapdragon 888 chipset, HarmonyOS, and an 8200mAh battery with 66W fast charging. Moreover, it can be equipped with useful accessories, such as the HUAWEI Detachable Magnetic Keyboard Case and M-Pencil, that can boost productivity.
Is this the right tablet for you? Can it replace a laptop? Find out in this review.
Superb Display, Slim Design
The HUAWEI MatePad Pro 11 has an OLED display that measures 11-inches across with a WQXGA 2560 x 1600 resolution and a 120Hz refresh rate. The screen has a 16:10 aspect ratio, which is common for Android tablets. But its long profile means you have more real estate for watching videos in landscape orientation, and web browsing, reading, and note taking in portrait orientation.
The display is gorgeous with rich and punchy colors, deep blacks, and great viewing angles. Color accuracy is very good, which is a boon for artists and creators. While the 600 nits of brightness mean you get good visibility even when outdoors.
The display is surrounded by narrow 4.2mm bezels, resulting in a 92% screen-to-body ratio. This helps the tablet keep a smaller footprint and maintain a more manageable size.
Speaking of size, it has a sleek and portable frame that measures 160.38 x 249.23 mm (6.31 x 9.81 inches) with a thickness of just 5.9 mm. It's lightweight too at just 449 g.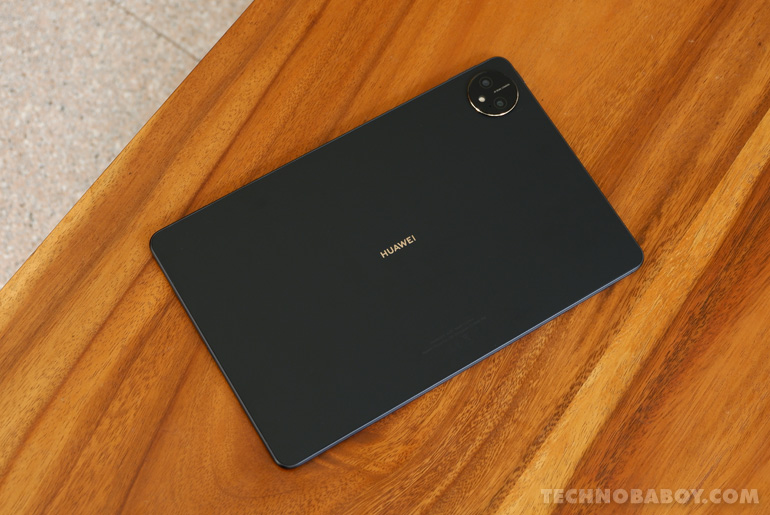 As for the design, Huawei spared no expense in making the MatePad Pro 11 a premium tablet. Its encased in a durable rear cover with a fine-grained metallic coating (the result of a unique frosting process) and gracefully rounded corners, giving it a highly satisfying look and feel.
The tablet is clearly meant to be used in landscape orientation. And as such, its power button, on the left side near the corner, and the volume rocker, on the top side near the left corner, are in ideal positions that are easy to reach and handle. There are four speakers, two on each side, with the USB-C port on the right.
HUAWEI Detachable Magnetic Keyboard Case
As the name implies, the HUAWEI detachable magnetic keyboard case serves as both a case and a keyboard. It is attached to the back of the tablet via strong magnets with automatic Bluetooth pairing and wireless charging. When opened, it turns the tablet into a pseudo laptop.
Even with the detachable magnetic keyboard case, the overall profile of the Matepad Pro 11 is slim. The keyboard itself is magnetically attached to the back and can be used even if detached. It connects via Bluetooth.
In use, the keyboard offers a satisfactory typing experience with 15mm keycaps and a 1.5mm key travel. It is comfortable to type on, even in long sessions.
With the keyboard removed, the back case has a flap that serves as a stand. It allows the tablet to tilt all the way back up to 165 degrees. Users can adjust the angle which suits them best, which I find ideal for drawing or taking down notes.
What's more, the case has a separate carrying case for the M-Pencil that you can attach to the back. The case also has an embedded hidden floating antenna, which amplifies the network signal.
HUAWEI M-Pencil
The HUAWEI M-Pencil stylus is now in its 2nd generation. It comes in white with an antioxidant coating, which gives it a nice pen-like grip and feel. It can be placed at the top (in landscape) and attaches via magnets, and wirelessly charges there as well. Once attached, it connects automatically via Bluetooth.
The M-Pencil has a transparent pen tip with a durable platinum-coated core. It has up to 4096-level pressure sensing that allows it to perceive changes in force, and create lines of varying thickness. What's more, it also has a double-tap function that, when used, switched between pen and eraser while note taking.
As for the writing experience? It's great. Writing is very smooth with very low latency. Huawei's Notes app is good as well. It's full-featured. You can also mix an arrangement of text, handwriting, audio, and images to make your notes. Overall, it's very versatile, easy to use, and works really well with the M-Pencil. Users can also opt to use the Nebo App for note-taking.
Productivity Focused
The HUAWEI MatePad Pro 11 is powered by a Qualcomm Snapdragon 888 with 8GB of RAM and 256GB of storage. It runs on Android 12-based HarmonyOS 3, which looks similar to the iPad OS.
For those new to Huawei, the tablet has no Google Play Store. Instead, you have the AppGallery for apps and games. It has most of the essential apps you need to get you started, including banking apps, e-wallet apps like GCash and Maya, shopping apps Shopee and Lazada, TikTok, Snapchat, Smart GigaLife app, Tinder, and more. For Google apps, you can use Gspace if you need it.
The MatePad Pro 11 also has some useful productivity features such as multi-window support (having two apps open side by side when multitasking), the App Multiplier where you can drag on an app to turn it into a floating window and divide the screen up to four independently, and, of course, the Super Device which allows for cross-device collaboration with supported HUAWEI phones, laptops, and other devices.
I've used the HUAWEI MatePad Pro 11 on several occasions when bringing a laptop proved to be cumbersome. It works very well in a pinch when I need to write articles, create lengthy email replies, and do general browsing.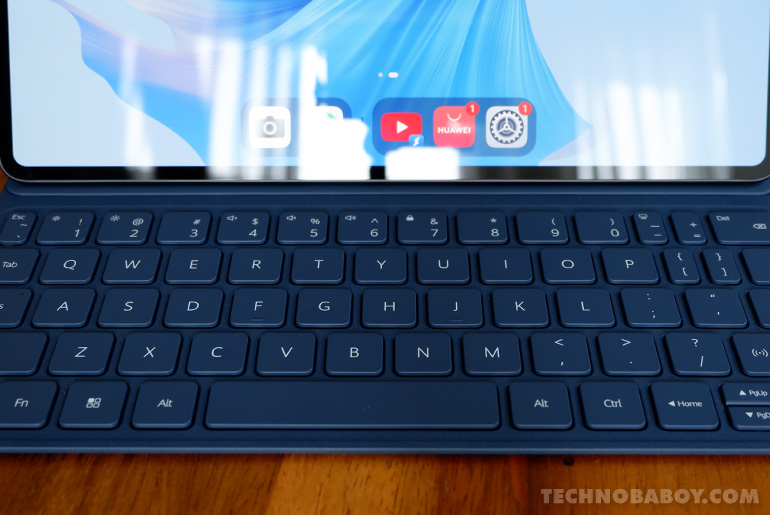 It's also great for watching videos and listening to music. Apart from the excellent display, the MatePad Pro 11 also has six speakers and they sound amazing.
[09/09/22 Update: A recent OTA update came with L1 Widevine, which means you can now get HD and HDR quality on services like Netflix, HBO Go, and Amazon Prime Video via Gspace.]
Unfortunately, at the time of this writing, the tablet still doesn't have the L1 Widevine certification, which means you only get SD quality on services like Netflix, HBO Go, and Amazon Prime Video, even with Gspace. Hopefully, it comes with the next update.
The tablet also comes with a 13MP main and 2MP wide-angle at the back. Generally, I don't recommend taking photos with a tablet, but these would do if you need to. There's also a 16MP shooter in front, which is more than enough for Zoom meetings and video calls.
Also Read: Lenovo Yoga 6 13-inch (13ALC7) review
As for the battery performance, it's excellent. The tablet's huge 8300mAh battery can last a work day with moderate to heavy usage which includes writing and browsing with the occasional email, along with some music and video playback.
Can it replace a laptop?
Can it replace a laptop? It depends. But for most people, it is possible, especially with the detachable keyboard case. Of course, it would largely depend on what you need from the device and the apps/programs you use.
Should you buy it?
If you're looking for a powerful tablet with the versatility of a workhorse and an entertainment device, then HUAWEI MatePad Pro 11 is a great option (especially with the detachable keyboard case). It's a superb tablet that covers the basics with an amazing display, powerful internals, and great speakers.
Take note that this does not have the Play Store, which is a consideration for those who are heavily invested in the Google ecosystem. But the AppGallery can make up for some of it with its vast library of apps. What's more, HarmonyOS is a beautiful and full-featured OS that offers a host of functionality that gives the MatePad Pro 11 an edge over competing products.
Price and Availability
The HUAWEI MatePad Pro 11 is now available for pre-order in the Philippines from September 2 to 8, 2022.
The MatePad Pro 11 has a price of Php 41,999. Pre-orders come with over Php 15,000 worth of accessories including a detachable magnetic keyboard case (Php 6,999), a 2nd gen M-Pencil (Php 5,999), and app benefits worth Php 2,099.
HUAWEI MatePad Pro 11 specs
Display: 11-inch WQXGA OLED display, 2560 x 1600, 120Hz refresh rate, 1440 Hz high-frequency PWM dimming, 600 nits
Processor: Qualcomm Snapdragon 888
RAM/Storage: 8GB+256GB
Rear Camera: 13MP main + 2MP wide-angle
Front Camera: 16MP
Connectivity: Wi-Fi 6 dual-band, Bluetooth 5.1
Others: USB-C, 6 speakers, 4 mics, VC cooling
OS: HarmonyOS
Battery: 8200mAh, 66W fast charging