For years, tablets have always been touted as laptop replacements. Only recently has it been possible. Nowadays, tablets are powerful enough to handle most tasks that needs a notebook.
Huawei recently released the Matepad Pro, a premium Android tablet with aluminum build and powerful internals. It's one of the best tablets available, with the power and features to become a laptop alternative.
We're here to talk about what you can to make your Matepad Pro a productivity and entertainment machine through the AppGallery and other methods. This how-to guide is also compatible with most Android tablets.
So, lets get started. Here's how to prep your Huawei Matepad Pro or Android tablet for productivity and entertainment.
Get a keyboard
First and foremost, if you want to get the most out of your Matepad Pro or tablet, you should get a physical keyboard. Of course, you can always slug it out using the onscreen keyboard, but that would be counter intuitive for what we want to achieve.
The Matepad Pro comes with a really good magnetic keyboard case. It's sleek and has a nice size for typing for long hours. It also comes with a lot of extras, such as the keyboard shortcuts for better productivity and an NFC scanner to connect compatible devices.
You can also opt for something more versatile that would work with Android, iOS or Windows. The Logitech K380 Bluetooth Keyboard will do nicely. It's another great keyboard with a nice size. You can also easily switch between devices at the press of a button. This is one of my personal favorites.
What apps should you use
So, what apps do you need to start? Let's first talk about the apps already on the Matepad Pro.
The default email app is compatible with Gmail, Yahoo, Hotmail, MS Exchange, and other POP or SMTP protocols. It is easy to set up and is lightweight compared to the actual email apps of the ones mentioned.
Also Read: Huawei Matepad Pro review: Best for productivity and entertainment
Next you have the default browser. It is more than enough to handle browsing online. You can also run Google webapps on it such as YouTube, Gmail, Maps, Keep, Calendar, News, etc. You can also run some banking sites this way. BPI has an excellent interface for tablets and smartphones. You can check out what I'm talking about here.
A webapp is a program that you can run on a browser, that functions much like a regular app.
I recommend making bookmark shortcuts of your most used web apps. This way, it will be easier to access and run. To make a "bookmark shortcut" and add it to the home screen, just go to website you want to add on the browser. Tap the three dots on the upper right. Tap "Add to home screen" choose "Phone home screen," and tap OK.
Also Read: Huawei P40 review: Small and outstanding
The Matepad Pro also comes with two notes apps – Nebo and Notepad. The former is a note taking app that works best with the M Pencil and can transcribe your handwriting into text as well as sort your notes into categories. The Notepad is the default alternative that works with the stylus. This one has the added bonus of cloud storage and syncing courtesy of the Huawei Cloud.
Download from the AppGallery
The AppGallery is the best place to get your productivity apps if you're using a Matepad Pro or Huawei/Honor smartphone.
For starters, you can download may of the popular productivity apps such as Viber, Grab, Booking.com, Klook, Agoda, Trivago, WeChat, PAL, Lazada, Shopee. You can also install mobile wallet apps PayMaya and GCash, including local banking apps like BDO, Metrobank, RCBC, Eastwest Bank, and Union Bank. And for entertainment, there's iflix, Viu, Snapchat, and TikTok.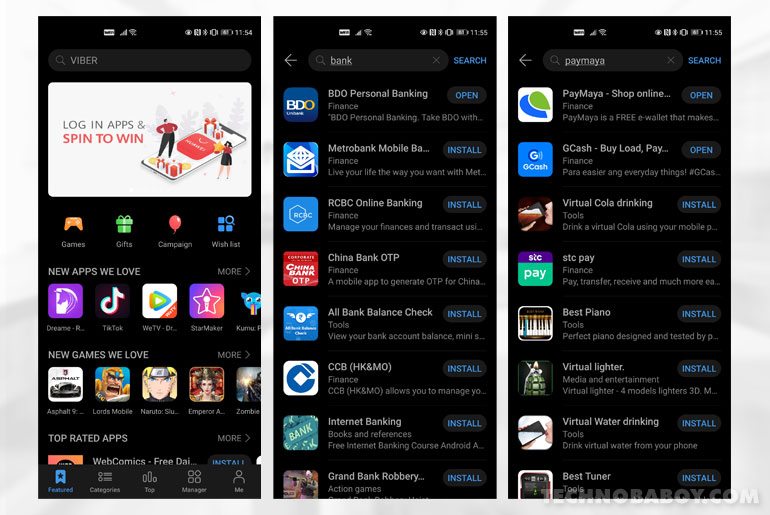 Another must have app to maximize your productivity is Microsoft Office. You can create and edit Word, Excel, and PowerPoint documents. You can also access files on different devices or any browser on a desktop with an account. It also works offline.
Also Read: Using Huawei's AppGallery and Google products on your Huawei smartphone
Office is my go-to app for writing on both my Windows laptop and the tablet and it's been great so far (I usually switch between devices when writing).
Check out our AppGallery guide to find out what else you can do with Huawei smartphones and tablets running EMUI, including instructions on using your favorite Google products.
Download from other sources
For apps and games not available in the AppGallery, you can install other app stores such as the Amazon Appstore and APK Pure. These have the added bonus of keeping your apps up-to-date.
To install from other sources, you first need to allow your device to install APKs from other sources. To do this, go to Settings> Security> More settings> Install apps from external sources.
You can also copy over full apps from your phone (except the Google apps, of course) to your Matepad Pro using Phone Clone. It's not practical, but it works.
For those looking for YouTube (which, again works great as a webapp) can opt for YouTube Vanced. This is a modified version of the official YouTube app, so there are risks. And while it works on most devices, the app that allows you to login to your Google apps doesn't always work. We have instructions on how to install on this link.
For social media apps, you can download install the APKs. Facebook can be installed this way. You can download the official APK file from their website. For Messenger and Instagram, you can get those from the Amazon Appstore.
And finally, for Netflix to work, just download and install any version below version 5.
Final thoughts
The Huawei Matepad Pro is a viable replacement for a laptop. It is a compact device with powerful internals and a large battery. With the right apps, it becomes a productivity and entertainment monster.
Of course, there are tasks that that require a full blown laptop that a regular tablet won't be able to do. But for most of us, the Matepad Pro is more than enough.
The Huawei Matepad Pro is available for PHP 32,990. Check out our full review on this link.
Huawei MatePad Pro 4G specs
Display: 10.8-inch WQXGA OLED Display, 2560 x 1600, DCI-P3
Processor: HiSilicon Kirin 990 Processor
GPU: Mali-G76 MP16 GPU, GPU Turbo
RAM: 6GB LPDDR4x RAM
Storage: 128GB UFS 3.0 Storage, NM Card Expansion Slot
Rear Camera: 13MP Rear Camera, AF
Front Camera: 8MP Selfie Camera, AF
Network: 4G LTE
Connectivity: Wi-Fi 802.11ac, Dual band, Bluetooth 5.1, GPS
Others: Huawei Mobile Services, Face Unlock, USB Type-C, Quad Speakers, Harman/Kardon Tuning
OS: EMUI 10.1, Android 10
Battery: 7,250mAh Battery, Fast Wired Charging, Reverse Charging