If you're paying attention to what Cherry Mobile is doing, you'll notice that it has been saturating the market with cheap Android handsets.  In the past months, the local phone brand introduced the Flame, Blaze, Flare, Titan, Omega, Cruize and Rave, among others. That list is far from complete and does not even include the Android tablets.  The phones start from about P4,000 which is really too low for a decent Android phone.  You'll be left wondering how Cherry Mobile is able to pull it off but for those who have no budget for Android phones from the big brands, they don't care how the company is able to do it.  They just care that they are being offered at very low prices.
The Android phones from Cherry Mobile are cheap, alright, but they are surprisingly capable and feature-packed handsets.  They are far from perfect but for the price they are being sold, they seem to be worth the buyer's money.  You'd be hearing complaints here and there but that seems to be the exception more than the rule.
Cherry Mobile is not yet done introducing new handsets.  The latest one to be unveiled is the Cherry Mobile Thunder.  It's being launched in partnership with online store Lazada, which is quite a good move and one that would help both brands promote their respective names.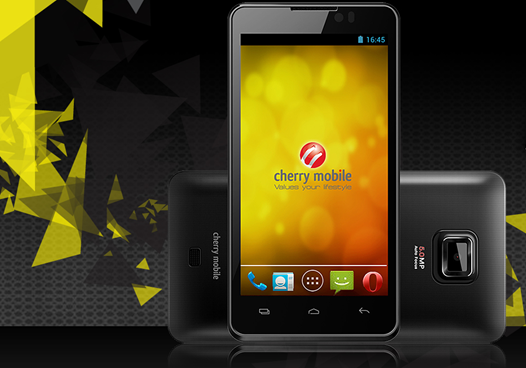 The Cherry Mobile Thunder is another Android phone.  It features a 4.5 inch FWVGA display and runs Android 4.0 Ice Cream Sandwich.  In terms of display size, that puts the Thunder above the 3.5-inch Rave and the 4-inch Flare and below the 4.7-inch Blaze, the 5-inch Titan, the 5.2-inch Cruize and 5.2-inch Omega.   If you have a particular size in mind, you'd know which among these Cherry Mobile Android phones to pick.  The Cherry Mobile Thunder is priced at P4,990.  Is this price reasonable? Let's look at the main specs.
Cherry Mobile Thunder Specs and Price
4.5-inch FWVGA Display
1GHz dual-core processor
Android 4.0 Ice Cream Sandwich (ICS)
4GB internal storage
microSD card expansion up to 32GB
Wi-Fi b/g/n
Bluetooth
3G
GPS
5-megapixel main camera
Front-facing camera
Price: P4,990
This set of specs looks nice considering the price.  The dual-core processor should be fast enough for your basic multitasking requirements and the 5-megapixel rear camera is capable enough to satisfy your mobile photography needs.  The front camera is not detailed at this point but I'm assuming it's just VGA.  The RAM was also not revealed so I'd go ahead and put it at 512MB.  What many might consider insufficient is the 4GB internal storage and could be a deal breaker to some.  Thankfully, there's a microSD card slot for expansion.  If you're going to buy the Thunder, I'm pretty sure you will need a microSD card since 4GB is simply not enough.
What do you think? Is the Cherry Mobile Thunder for you?