TL;DR: The Garmin Fenix 6S Pro Solar is a great option for the series sports enthusiast whose looking for a robust and feature rich smartwatch.
The problem with smartwatches nowadays is battery life. But something about Garmin's latest devices allow it to last longer than most with solar power.
The Garmin Fenix 6S Pro Solar is the brand's multi-sport smartwatch that comes with a solar charging panel. It comes in two case sizes, 42mm and 47mm. Here, we have the 42mm for review.
Price
The Garmin Fenix 6S Pro Solar has a price of Php 48,995. It is available in retail stores, as well as the official Garmin store on Shopee and Lazada.
Design and Features
The Fenix 6S Pro Solar has a sporty design with a robust build. It has a stainless steel bezel with a fiber-reinforced polymer and a metal rear cover. The watch is waterproof, thanks to its 10ATM water rating.
The strap is made from silicone, which offers a soft and slippery feel. It has a quick release button that allows for easy removal and replacement.
The watch is not that big, but it does feel chunky. Regardless, it's very comfortable to wear, and reasonably light at just 61 g.
ALSO READ: realme Watch 2 Pro with 1.75-inch display, 14-day battery life
The display has a 1.2-inch size. Its a non-touch color transflective LCD, which offers legibility in sunlight with a backlight for when it gets dark. In fact, its quite easy to read outdoors. To prevent scratches, it is protected by a Gorilla Glass.
Since its not a touch screen, the watch has five buttons for controls (three on the left and two on the right). The buttons — up and down, select and back — are fairly easy to use.
As someone more used to touchscreens, this came as a challenge at first. But I got used to it quickly. Besides, the buttons are easier to manage when on runs or if your out on a swim.
Scrolling up and down lets you can go through a series of widgets, including as notifications, the weather, and a series of health stats including the heart monitor, temperature, solar power, stress and sleep stats, and more. You can also assign shortcuts to the buttons. I have it set to control music.
The Fenix 6S Pro Solar can be used with or without a phone, but pairing it with one have added benefits. You can sync data with the Garmin Connect app, apart from the aforementioned notifications and music controls.
The watch has 32GB storage on board, which can hold around 2,000 songs. If you have a Spotify Premium account, you can sync your playlist through the Garmin Connect app.
Performance
The Garmin Fenix 6S Pro Solar comes with a series of sports trackers. To name just some of it — trail running, swimming, running, biking, hiking, rowing, skiing, golfing, surfing, indoor climbing, and more.
For the review, I've only used it for running. Take note that I'm not really a runner. The watch also offers animated workouts for strength training, yoga, and pilates.
Serieous runners and fitness buffs will enjoy its host of activity trackers, which can be used to evaluate performance. Apart from steps taken and distance (thanks to the built-in GPS), it also measures your heart rate, your pace, and VO2max levels.
ALSO READ: Garmin Venu Sq GPS smartwatch available exclusively on Shopee
Battery life is around 10 to 12 days. Garmin says it can go as far as 14, which is possible if you cut down on some of its features. One of its key featuers is the solar power, thanks to the Power Glass panel. Its not a viable solution to fully charge your watch, but its a very good way to quickly top up and add to existing power, extending usage.
With this, you can get an hour or two of power if you run sparingly (on a good sunny day). Regular or serious runners could extend battery life to a few days more.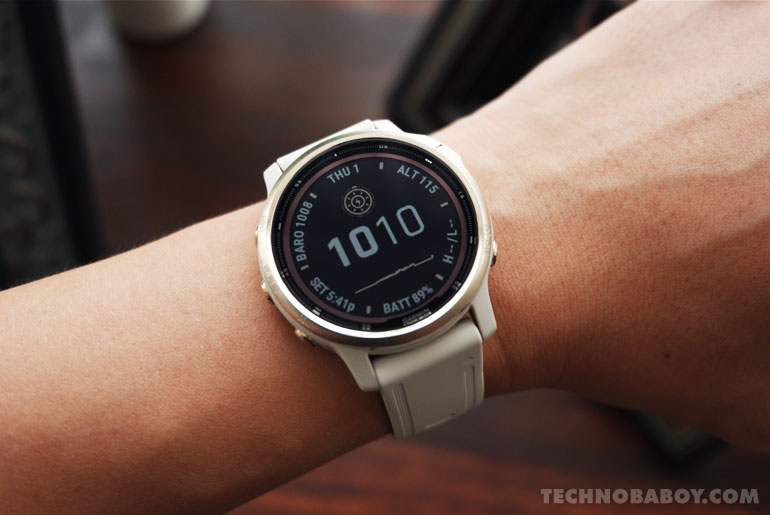 Verdict
The Garmin Fenix 6S Pro Solar is a great solid smartwatch for health, sports, and outdoor enthusiasts. It offers a lot of options, be it for runners, cyclists, swimmers, and more. Battery life is outstanding, considering you have to charge it at least once a week. And charging via solar gives it a boost for a few more hours, or quite possibly a few more days.
With all its features, the watch is too much for casual users. And at Php 48,995, its pricey. But if you're serious about fitness, sports, and other outdoor activities (and if you have the money), this is a good option for you.